Full HD Remote Camera with NDI I HX Support 
AW-HN130
Discontinued
Full HD Remote Camera with NDI I HX Support 
Built in Support for NDI via NDI|HX
1/2.86" 3MOS Sensor
20x Optical Zoom (10x Digital Zoom)
PoE+ for Single Cable Power, Control, Streaming & Tally
Video Output: LAN / 3G-SDI / HD-SDI / HDMI / Composite
Key Features
NDIIHX support
1/2,86-type three MOS sensors
Optical Image Stabilizer
1,4x Extender Zoom
HD-IP Streaming
PoE+
Audio Input
Night Mode
Fan-Less Design
What is NDI?
NDI (Network Digital Interface) technology has been developed by NewTek, it is made available to anyone with a royalty-free license, and has been widely adopted by many broadcast vendors.  NDI revolutionizes video production workflow by removing the physical I/O constraints of traditional broadcast infrastructure. Any NDI-enabled device on the network can see and access content from all other devices, allowing more sources than ever before to be used for live production.
What is the specification of NDI|HX?
NDI is designed to run over existing 1 Gigabit networks, allowing easy adoption of the protocol without new infrastructure. This is achieved through the use of video compression with the NDI|HX codec, which delivers 1080 Full HD video at data rates typically around 15Mbps. NDI|HX is a 4:2:0 8-bit codec, based on H.264 compression. It supports 1080p and 720p, at different frame rates. Factory default mode is 1080/25p at 10Mbps. 
| | |
| --- | --- |
| Format | Bit rate |
| 1920x1080/50p | 8192kbps~24,576kbps |
| 1920x1080/50p/12,5p/25p | 1024kbps~14,336kbps |
| 1280x720/50p | 3072kbps~14,336kbps |
| 1280x720/50p/12,5p/25p | 512kbps~ 8,192kbps |
Excellent HD images via HDMI, USB and IP, plus HD via 3G-SDI
The highly sensitive camera is equipped with three newly developed 1/2.86-type MOS sensors, allowing for high-grade filming even in low light conditions, also offering a superior S/N ratio and high resolution. In addition to 3G-SDI and HDMI output, production quality full HD video output via IP transmission is supported by the AW-HN130. The camera delivers up to four channels of IP streaming video (H.264), with configuration levels of the quality level.
In addition to a sharp, fast F1,6, 20x optical zoom lens, the AW-HN130 is equipped with an innovative 1,4x digital extender that can increase the effective focal length of the lens by 40% while delivering smooth, high-resolution video. The new built-in Optical Image Stabilization System (OIS) automatically minimizes the effect of small vibrations from the surface where the camera is mounted caused; whether this is caused by the opening and closing of doors, nearby speakers, or other disturbances.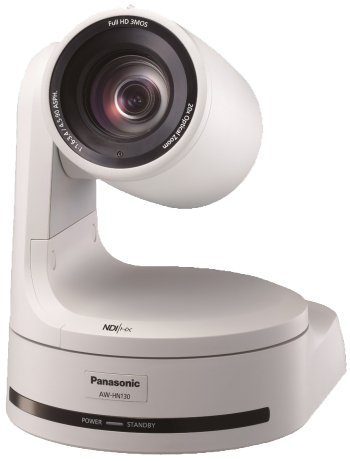 Thanks to a highly evolved pan-tilt design, the AW-HN130 achieves smoother and more natural movement during on-air shots. The pan-tilt head also has a wide shooting range, with a pan range of ±175° and a tilt range of -30° to 210°. The newly developed pan tilt drive provides high-speed operation at maximum 60°/s, excellent response to remote control operation, and highly precise stop control. These features combine to accurately capture fast-action sports scenes or smooth concert footage. The noise level during operation is also very low, at NC35 or less, which is ideal for use in quiet environments.

Video Outputs: Standard professional interfaces include HD/SD-SDI, HDMI, and SD composite, as well as IP/Network for single cable delivery of high-quality content up to 1080/60p. 
Serial Control: RS-422 serial compatibility is available for serial-based control workflows (i.e. connection to AW-RP50/120 or previous controllers). RS-232 and RS-422 VISCA protocols are available when introducing a Panasonic camera into an existing control structure. 
Network Connected | The LAN port on the HN130 unleashes the possibilities: 
Power of Ethernet+ (PoE+) for easier system installation and setup. 
Control the camera via the network with an AW-RP50/120 hardware controller or Panasonic software solutions
Access the built-in web interface to monitor and control all aspects of the camera
Utilize a supported third-party control system from broadcast control systems, switchers, lecture capture systems, AV Control system and more
By default, the camera has a built-in H.264/MJPEG encoder for 7 channels of encoding up to 25Mbps. Pair with a supported hardware or software decoder. 
Built-in NDI|HX (a technology of NewTek Inc.) for the ultimate single cable production workflow with ultra-low latency video, audio, control, tally, and power over a single cable
Please click here for a list of operation manuals to download.
| | |
| --- | --- |
| Color | Black (K) or White (W) |
| General | |
| Sensor | 1/2.86 inch 3MOS |
| Optical Zoom | 20x |
| i.Zoom | - |
| Digital Zoom | 10x |
| FOV (Horizontal) | 60.2° (W) - 3.3° (T) |
| FOV (Vertical) | 36.2° (W) - 1.9° (T) |
POVCAM
AG-UMR20
The AG-UMR20 compact field recorder is the ideal solution for broadcasting, video production, live streaming & more. It can be used as a standalone recorder for external video sources such as PTZ cameras, broadcast cameras & switchers or be used with the optional compact 4K POVCAM camera head (AG-UCK20) to facilitate ultra-flexible installations in places that would typically be out of reach.
Control panels, CCU and Converter
AW-RP150GJ
The AW-RP150 will be the newest remote camera controller to compliment Panasonic's comprehensive professional PTZ camera lineup. It has the same great functionality of the AW-RP120 and AW-RP50, and joins the lineup with significant improvements over those models, including a new one-hand operation joystick (controlling PTZ or Focus) and a large touch-panel LCD screen for monitoring and menu setting.
Control panels, CCU and Converter
AW-RP60GJ
Equipped with a GUI menu screen for clear visibility and a joystick for intuitive control.Compact Remote Camera Controller with PoE* support for single cable connection.
Control panels, CCU and Converter
AW-RM50AG
Infrared Wireless Remote Control
Remote Unit / Controller
AK-HRP1000
1/4-type rack size remote operation panel which supports PoE+ and IP control
Control panels, CCU and Converter
AW-RM50AG
Infrared Wireless Remote Control
Related resources
Software
PTZ Virtual USB Driver is an application software that runs on Windows. This makes it possible to use a remote camera in a network as a USB camera
Software
PTZ Control Center is an application software that runs on Windows.  You can remotely operate the Panasonic cameras present on the network in a very easy manner.
White Paper
In the last few years, PTZ (Pan, Tilt and Zoom) cameras have become more powerful - and versatile. The latest cameras are full broadcast quality (up to 4K) and have such comprehensive connectivity that there's usually no need for a conventional broadcast infrastructure.This is ideal for modern video productions in an environment where broadcast infrastructure is rapidly being replaced by IP/IT technology.At the same time, demand for video content is mushrooming beyond the capacity of traditional budgets. This calls for more TV production facilities but without the cost. Here's how PTZ cameras can help.
Brochures
Catalog : System Camera and Switcher Product Lineup Catalog PDF