The World's Smallest, Lightest, and Quietest 20,000*1 lm Projector
PT-MZ11KL
*1 Light output of PT-MZ20KL. As of November 2022, based on publicly available dimensions, weight, and operation noise values for LCD laser projectors with 20,000 lm brightness and above. Measurement, measuring conditions, and method of notation all comply with ISO/IEC 21118: 2020 international standards. Value is average of all products when shipped.
Scroll down
World's Smallest, Lightest, and Quietest 11,000 lm LCD Projector 
Long-Life Energy-Saving Design Minimizes Problems 
Delivering up to 20,000 lm on AC 100–240 V, a World First 
The World's Smallest, Lightest, and Quietest LCD Projector with 11,000 lm
The PT-MZ20KL Series is Lightweight, Compact, and Capable of High-Brightness Projection Series suitable for several occurances.
PROJECTOR TYPE
PT-MZ20 SERIES
MODELS
PT-MZ20KL
PT-MZ17KL
PT-MZ14KL
PT-MZ11KL
RESOLUTION
WUXGA (1920 x 1200 pixels, 16:10)
WUXGA (1920 x 1200 pixels, 16:10)
WUXGA (1920 x 1200 pixels, 16:10)
WUXGA (1920 x 1200 pixels, 16:10)
BRIGHTNESS
20 000 lm
16 500 lm
14 000 lm
11 000 lm
Weight
Approx. 23.0 kg 
Approx. 22.5 kg
Approx. 22.5 kg
Approx. 22.5 kg
World's Quietest Operation Allows Viewers to Concentrate on Your Presentation
PT-MZ20K Series achieves the world's quietest1 operation at 42 dB. Not only does it keep participants focused, it also contributes to an improved sound environment for applications such as hybrid conferences. When a quieter environment is required, noise level can be further reduced to
36 dB by setting the projector to QUIET Mode. This helps create an environment where all viewers can concentrate on the presentation.
1 As of March 2023, based on LCD laser projectors with 20,000 lm brightness and above according to internal research.
Pure White Generator Delivers High Brightness and Rich Color
Pure White Generator, developed by Panasonic Connect, contributes to rich color reproduction at high brightness of 11,000 lm. Efficient light collection uses a multi-reflection system to minimize loss of light-source energy noticeable with conventional systems. It achieves an optimal color balance without sacrificing brightness for realistic and accurate color expression.
Dynamic Contrast NX Realizes a New Dimension of Light and Dark Control
Dynamic Contrast NX, a further evolution of Dynamic Contrast, uses a newly developed video-scene analysis circuit to recognize differences in brightness and darkness more precisely than before.
Environmentally Friendly Energy-Saving Design, from Transport to Maintenance
Light and compact body improves loading efficiency and reduces CO2 emissions associated with transport. In addition, MZ20KL boasts the world's lowest power consumption of any projector in its class to reduce resources required for daily operation. Laser light source and filter don't need to be replaced for 20,000 hours, minimizing use of consumable parts and other waste. From transportation to operation and maintenance, the environmentally friendly design reduces labor and costs while supporting CSR, SDGs, and other green initiatives.
Multi-Laser Drive Engine Anticipates Unforeseen Circumstances
Multi-Laser Drive Engine ensures stable projection even if light-source problems occur. The projector is equipped with multiple modules consisting of many laser diodes, and in the unlikely event one of the elements malfunctions, Panasonic Connect's unique Failover Circuitry is activated so that projection can continue with virtually no reduction in brightness. This allows the projector to be used with peace of mind in situations where a drop in brightness could affect important presentations, such as large-scale lectures and seminars.
Long-Term Stability with Unique Liquid-Cooling System and Dustproof Structure
To achieve high brightness and stable operation, we adopted a liquid-cooling system originally developed for our DLP™ projection systems. This efficient design circulates cooling liquid to the light-source modules directly, preventing temperature increases associated with high-brightness projection. Combined with a highly reliable original dustproof structure, the system enables stable performance even in hot, dusty environments.
Backup Input Function for Enhanced Reliability
Backup Input function enables seamless projection even if the input signal is disrupted. With HDMI 1 set as the primary input and HDMI 2 set as the secondary input, the projector switches to HDMI 2 in as little as 0.3 seconds if the signal to HDMI 1 is disrupted. This improves reliability and ensures stable operation in environments where video presentation must not be interrupted.
Information Monitor for Changing Settings and Checking Status
Information Monitor is located on the main unit's control panel and displays information such as temperature, voltage, operating hours, and input signals in real time. If a projector error occurs, the error number and associated details are immediately reported. The status of the main unit can be easily checked, and quick recovery from trouble is made possible.
Up to 20,000 lm on AC 100–240 V Power
This series is the first in the industry2 to achieve up to 20,000 lm1 on AC 100–240 V input voltage. Conventional projectors require an AC 200–240 V power supply to project at 20,000 lm1, but this series can project images using an ordinary power outlet. This eliminates need for high-voltage power supply installation, and greatly expands the range of situations in which a 20,000 lm-class projector can be deployed.
1 Light output of PT-MZ20KL. Measurement, measuring conditions, and method of notation all comply with
ISO/IEC 21118: 2020 international standards. Value is average of all products when shipped.
2 As of March 2023, based on LCD laser projectors with 20,000 lm brightness and above according to
internal research.
Data Cloning Function Now Compatible with USB Memory
Data cloning function allows the user to copy settings and adjustment values from a Main projector to Sub projectors via LAN1 or USB memory device. This function reduces the time and effort required when setting up multiple projectors.
Smart Projector Control App for Smooth Installation
Smart Projector Control app1 allows you to control the projector from a smartphone. By scanning the QR code2 displayed on the OSD menu screen or Information Monitor and connecting to wireless LAN, switching input signals and other functions can be performed from a mobile device. In addition to being able to control up to 64 devices simultaneously, it also supports lens adjustment, test-pattern switching, and focus adjustment using your device's camera3 from a distance of 30 m4. For more information, please click here.
1 Check device compatibility at the App Store or the Google Play store.
2 Requires optional AJ-WM50 Series Wireless Module (sold separately). Product availability may vary by country or region.
3 Some devices do not support projector autofocus function.
4 When projecting a 300-inch image. Maximum distance is 3 m (10 ft) for a 100-inch image.
Geometric Adjustment Corrects Trapezoidal Distortion and Curved Screens
With built-in Geometric Adjustment, various distortions on the screen can be corrected via remote control. In addition to trapezoidal distortion resulting from angled projection, Curved Screen Correction fixes distortion caused by projection onto curved surfaces. Corner Correction allows the user to specify four screen corners, such as the upper right and lower right, for correction. Screen proportions can be maintained and corrections can be saved as data.
Free Grid Enables Pinpoint Correction of Local Distortion
In addition to built-in Geometric Adjustment function, Free Grid allows pinpoint correction of local distortion within the screen. Grids between 2 x 2 and 17 x 17 lines can be selected to allow point-by-point correction, or batch correction by specifying vertical and horizontal lines. Correction data is maintained even after changing the number of grids or points, allowing smooth transition from basic to detailed correction. This convenient function allows adjustment of special screens, such as irregular or uneven wall surfaces, with the remote control.
Preactivated Upgrade Kits for Geometry Manager Pro Software
For advanced screen adjustment, PT-MZ20K Series features Geometry Manager Pro software1 which expands built-in functions and enables adjustment from a PC. In addition to the standard functions included in the software, PT-MZ20K Series has built-in upgrade kits that allow access to all functions without license activation. PT-MZ20K Series offers unparalleled smoothness to reduce labor-intensive adjustment with camera-based2 geometric distortion correction, edge-blending, color-matching, stacking, and automatic adjustment of brightness and black levels.
1 Visit PASS to register your projector and download free Geometry Manager Pro software for Windows® (upgrade kits included). Visit the Panasonic Geometry Manager Functions webpage for more information.
2 Compatible cameras comprise Nikon D5200/D5300/D5500/D5600/D7500. Use of Auto Screen Adjustment function with these cameras requires installation of Auto Screen Adjustment Plug-in (a free camera driver available from PASS). Use of Auto Screen Adjustment function with D7500 requires Geometry Manager Pro Ver. 6.1.10 or later and Auto Screen Adjustment Plug-in Ver. 5.1.10 or later.
Black Level Correction to Match Screen Shape
With conventional black level correction, only the width and angle of the black border are specified for correction, making edge-blending on curved screens difficult. To solve this problem, PT-MZ20K Series is equipped with a function that allows the shape of black borders to be adjusted to match the screen shape. Using up to 17 points, flexible black level correction is possible even on curved screens, enhancing the sense of cohesion in multi-screen applications.
Remote Preview LITE for Remote Confirmation of Images
With Remote Preview LITE1, you can check input images in advance even when it's not possible to project content, such as outdoors during the daytime or during performance rehearsals. When your PC and the projector are connected to the network, you can use a web browser or Multi Monitoring & Control Software to display thumbnail images of the input video. Check content even when the shutter is in use or the projector is in Standby2 to quickly identify any problems between the source device and the projector for faster recovery.
1 Requires Multi-Monitoring & Control Software Version 3.3 or later available free here. For more information, click here.
2 Projector must be set to Pre-Show Mode.
Panasonic Connect's unique image quality correction circuitry reproduces details more clearly and sharply. It analyzes video signal frequencies in each scene and adjusts for optimal sharpness based on information extracted from the signal. Compared to conventional image processing technology, this system reproduces images with an even more natural and three-dimensional feel.
Uncompressed 4K/60p input signals1 are supported via HDMI® or DIGITAL LINK. Since no external devices such as converters are required, 4K signals can be processed smoothly. This eliminates the need for
re-encoding when the projector is used with other 4K-compatible equipment, making projection with 4K signals simple and efficient.
1 Input signals are converted to the projector's display resolution upon playback. 4K/60p signals are supported via HDMI and DIGITAL LINK terminals. 4K/60p and 4K/50p signals input via DIGITAL LINK are supported in YPBPR 4:2:0 format only.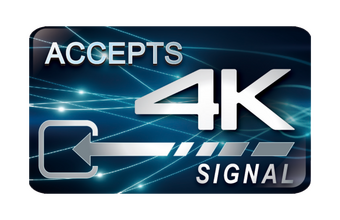 A variety of optional lenses (eight models2 in total) are available to support a range of screen sizes between 80 and 600 inches, allowing you to select the optimal lens for your projection needs. These lenses are equipped with a temperature sensor and automatically correct focus in conjunction with the projector's AFO2 function. This technology maintains a sharp image regardless of the brightness of the content, eliminating need for manual focus adjustment. Of course, powered lens-shift and zoom adjustment is also supported via remote control or Smart Projector Control app3.
1 Specifications vary depending on the lens. Please refer to the Operating Manual for details.
2 PT-MZ17KL/MZ14KL/MZ11KL are also compatible with previously released ET-EMS600/EMT700/EMT800 lenses.
3 Check device compatibility at the App Store or the Google Play store.
ET-EMU100 Ultra-Short-Throw Zoom Lens has a throw ratio of 0.330–0.353:1 and a screen size range of 100–400 inches, and enables large-screen projection even from tight installation spaces. With no gap (offset area) between the ceiling and the screen, ET-EMU100 eliminates need for adjustment and expands the range of visual expression by supporting the zoom function despite its ultra-short focus.
Supports 21:9 input signals
Supports Art-Net DMX, PJLink™, Crestron Connected™ V2, Crestron XiO Cloud™, Extron XTP® and IPv61
Compatible with Multiple PJ Firmware Batch Update Tool
Direct Power Off function
Scheduling function
Presentation support system
Free 360-degree installation
Quick Startup and Quick Off
Multi-unit Brightness and Color Control function
Multi-Screen Support System
DICOM Simulation Mode
Waveform monitoring function
1 Wired LAN only.
| | |
| --- | --- |
| Feature | Specification |
| Projector type | LCD projector |
| LCD Panel | Panel Size | 25.4 mm (1.0 in) diagonal (16:10 aspect ratio) |
| LCD Panel | Display System | Transparent LCD panel (x 3, R/G/B) |
| LCD Panel | Drive Method | Active matrix method |
| LCD Panel | Pixels | 2,304,000 (1920 x 1200 pixels) |
| Light Source | Laser diode |
| Light Output*1 *2 | 11,000 lm |
Lenses for LCD Projectors > 10.000 lumen
ET-EMS650
Zoom lens for LCD projectors is designed for compatibility with the PT-MZ20 Series projectors.
Lenses for LCD Projectors > 10.000 lumen
ET-EMT750
Zoom lens for LCD projectors is designed for compatibility with the PT-MZ20 Series projectors.
Lenses for LCD Projectors > 10.000 lumen
ET-EMT850
Zoom lens for LCD projectors is designed for compatibility with the PT-MZ20 Series projectors.