Does computer downtime get you down? Ever had that over-whelming desire to beat the living daylights out of your device? You know the feeling; that red mist moment when an app crashes or your laptop decides to reboot itself, when you have just a few vital minutes left to send in that critical report to the boss. Aaarrgh!
Well, take a long, deep breath, it may comfort you a little to know that you are not alone. The latest research reports that two thirds of frontline workers experience mobile computing issues each month, which negatively impact their ability to do their jobs - a rise of 16% from last year.
The study of more than 1500 companies across Europe and North America was commissioned by B2M Solutions as part of its 3rd Annual State of Enterprise Mobility Survey. They found that of all the mobile issues reported, the most common were: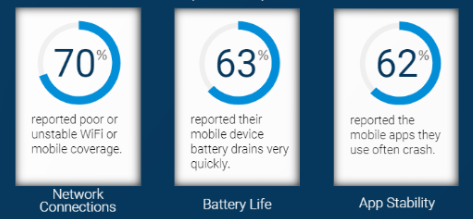 Poor or unstable WiFi or mobile coverage experienced by 70% of workers 
Almost two-thirds (63%) flagged that device batteries drain very quickly and do not last an entire shift.
62% reported the mobile apps they use often crash. 
Almost half (44%) cited that their device reboots itself for no apparent reason. 
However these stats are only the tip of the iceberg as 85% of monthly mobile issues go unreported to IT (up from 80% last year). Almost half of IT managers (48%) also admitted to an increase in the number of worker-reported issues over the past 12-18 months.
And, of course, as well as user frustration, these issues lead to lost business productivity, lost revenue and sometimes even lost customers.
So what's the solution? Despite 97% of companies in the survey having a device management tool like MDM / EMM in place to manage mobility, only 2% of those companies said the tools allow them to proactively manage and control the critical issues. Clearly there is a need for better solutions which provide more detailed analytics alongside real-time visibility.
Proactively spotting and fixing problems, and in some cases even predicting them, is the key to empowering frontline workers and IT teams with the tools they need to keep mobility up and running. Having a complete picture of your mobile device estate allows you to get the most productivity and utilisation out of the deployment.
When you use Panasonic TOUGHBOOK devices, our Smart Essentials toolset removes the risk of lost productivity and user frustration by providing valuable, intelligent and actionable insights into the health and utilisation of the entire mobile estate. It's operational intelligence that helps you monitor your deployed devices closer than ever and make informed decisions, faster.

Powered by B2M, the Smart Essentials suite consists of three services – 
Smart Service, Smart Battery Monitor and Smart Device Monitor
 – that capture, analyse and report on mobile device behaviour and attributes. By doing it all in real time, these Smart Essentials allow you to monitor and manage your devices as proactively as possible. It may just be the answer to that next bout of user frustration!
Header image from: Elnur/shutterstock.com