KAIROS is based on a new concept and architecture, and allows proprietary and innovative software to be executed on the GPU. It utilises evolving IT ecosystems and provides future flexibility and scalability.
Brackell, UK. 15th September 2020 – Panasonic today announced September availability of "KAIROS", the next-generation IT/IP live video production platform. KAIROS significantly improves the quality and productivity of live video production and video streaming services for broadcasters and event producers of professional sports games, musical concerts and other events.
KAIROS breaks free of the boundaries that come with traditional hardware. The platform is based on open software, meaning that it can take the various components of a live programme output and virtualize them. KAIROS can sit at the centre of a production by taking feeds from multiple sources, and outputting them to a multitude of projectors, displays and LED video walls for example. KAIROS runs on CPU and GPU architecture, enabling an extremely low system latency of just a single frame, whilst ensuring excellent system flexibility and scalability. 
KAIROS is compatible with not only baseband signals such as SDI, but also a diversity of other video inputs and outputs, including ST 2110 and NDI®. Fully supporting the latest IP technology, KAIROS helps realise remote operation of live video production. The platform also supports Precision Time Protocol (PTP) synchronisation, allowing it to capture the immediacy and atmosphere of sports events and musical performances in the live videos.
KAIROS also sets a new standard of usability thanks to KAIROS Creator, its intuitive and extremely well-designed Graphical User Interface (GUI). Within the GUI, KAIROS is able to manage an unlimited amount of video layers, and an unrestricted number of MEs or keys as found with conventional hardware platforms, whilst the canvas screen is unhampered by resolution or format.
Panasonic has also created a dedicated hardware panel called KAIROS Control, which supports the move towards remote production as both KAIROS Creator and KAIROS Control sites can be added to a network wherever an operator or engineer needs to be. The control panel is also easy to use and lets the user assign operation, which enables space-saving video production.
To take advantage of the rapidly evolving broadcast software and hardware ecosystem, Panasonic has established a program called "KAIROS Alliance Partners". Through this program, Panasonic will establish KAIROS as the de facto standard for next-generation video production platforms. As well as operating with Panasonic's own renown broadcast camera systems, projectors and displays, it will integrate and link to other partner products. Using the system, Panasonic is promoting the new concept of "Smart Live Production" and KAIROS plays the central role in enhancing "creativity."
Panasonic will continue to develop and expand its platform and provide new value that can support the people working at the production or broadcasting of live videos.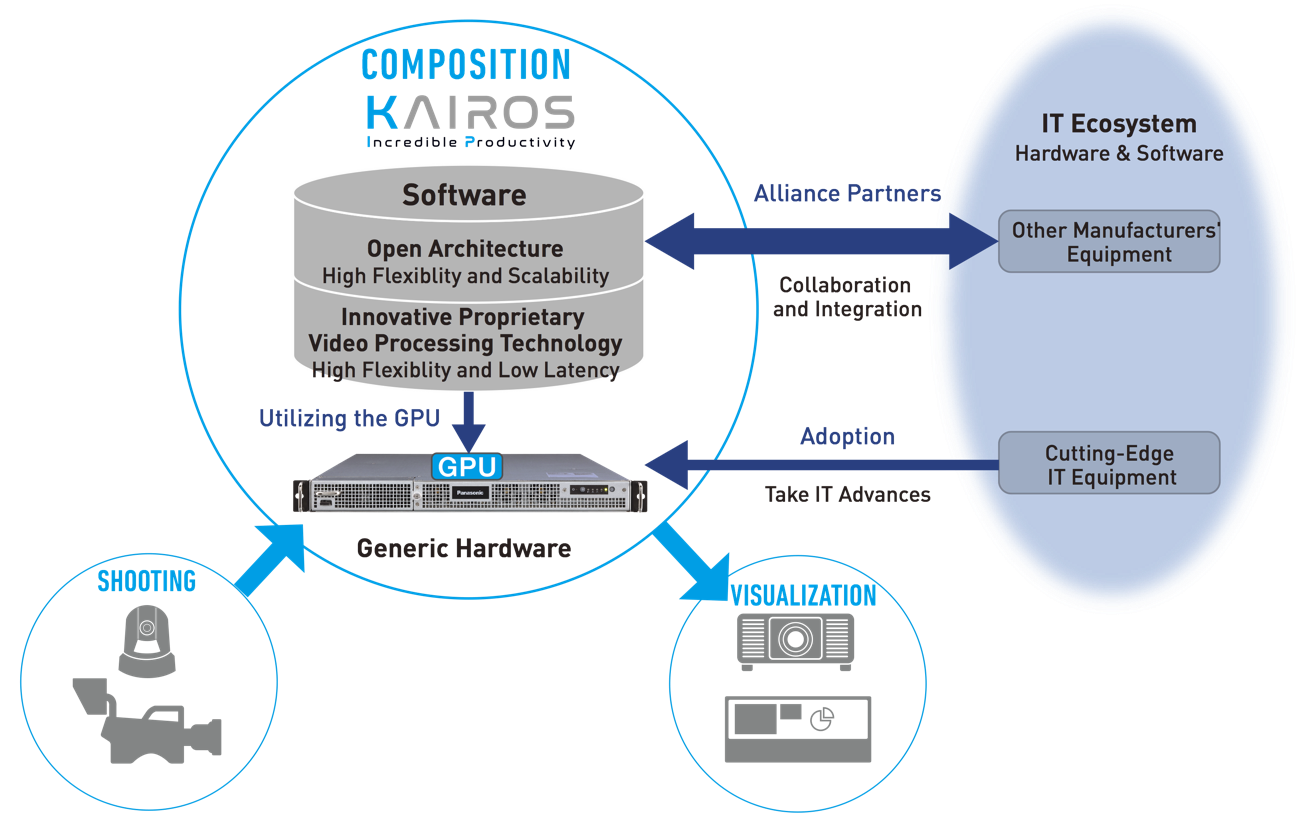 KAIROS Main Features
1. Allows flexible combination of a diversity of input and output interfaces such as ST 2110, NDI® and SDI with a variety of video formats.
●   Fully supports baseband signals (12G/3G/HD-SDI, HDMI, Display Port)[1] and IP packets (ST 2110, NDI®, RTP).
●   Unlimited number of inputs and outputs can be connected. Allows the same multi-input operation as when an external router is used.
     Up to 32 inputs and 16 independent outputs[2] can be used simultaneously in the case of HD (3G). Up to 8 inputs and 4 independent outputs2 can be used simultaneously in the case of 4K (UHD).
●   Two customisable multi-viewer outputs (Display Port) can display up to 36 images.
●   Supports PTP (Precision Time Control) synchronisation and allows the use of ST 2110-based system.
2. Flexible video expression by GPU processing, such as layered effects with unrestricted number of MEs or keys and format-free CANVAS.
●   Unrestricted by the number of MEs or keys. Layers can be placed as many as the GPU capability permits, and keys, scaling and other effects can be applied. Color matte function is also provided.
●   The CANVAS function (optional) enables the production of videos in a special format, such as 32:9 (for wall display), in addition to the standard 16:9 format. The multi-viewer displays special-format videos in the original format.
●   Processing latency can be as low as one frame. Live images of sports events and musical performances can be captured with the ambiences intact.
●   Equipped with a RAM recorder (8-ch, uncompressed) and Media Player (HD 2-ch, compressed) to enable the in-system playback of video files and their use as video sources. They also support still-image files.
3. Intuitive GUI, control panel with user assignable keys, software-based operability and expandability.
●   "KAIROS Creator" PC software features an intuitive GUI. GUI control panel can be displayed for space-saving operation.
●   Addition of application software extends functions or enables linkage of external devices, thus allowing efficient system design according to the application and user needs and ensuring future expandability.
●   "KAIROS Alliance Partners" program has been established to promote collaborations with IT/video manufacturers and vendors. The program spurs the addition of software for the expansion of functions and linkage of external devices.
[1]Deltacast FLEX modules are required for baseband signals. 
[2] Maximum number of inputs and outputs when option is used. 
● NDI® is registered trademarks of NewTek in the United States
Sorry there was an error...
The files you selected could not be downloaded as they do not exist.
You selected items.
Continue to select additional items or download selected items together as a zip file.
You selected 1 item.
Continue to select additional items or download the selected item directly.