1/3-type 2.2 megapixel 3MOS sensor delivers Full HD resolution with sensitivity of F12 (50Hz) or F11 (59.94Hz) in a lightweight body of 2.7kg
Equipped with CAC to maximise lens performance and DRS to compensate for lighting variations
Built-in AVC ULTRA recording that features AVC-Intra 200/500/50 and AVC-LongG50/25/12
Two P2 slots supports both relay and simultaneous recording capabilities
Integrated studio camera adapter which enables easy configuration into a fully-functional studio camera system by connecting to the optional AG-BS300G base station through two standard HD-SDI cables
The AJ-PX380G has been thoughtfully created to cater to your video production needs and to undoubtedly enhance your operations. This shoulder-type camera recorder with interchangeable lens not only provides broadcast picture quality and enhances network-based workflows whilst boasting compact, lightweight mobility and low-cost operation it can equally be used as a camera recorder or in studio/live applications. The camcorder's 1/3-type 2.2-megapixel 3MOS sensor features high sensitivity; and high S/N. Broadcast-level AVC-ULTRA*1 codecs (AVC-Intra, AVC-LongG, and AVC-Proxy) further enhance recording quality. 
With this variety of options, you can effortlessly select the codec which is most suited to your needs. Not only does this high definition camcorder offer high-quality 4:2:2 10-bit recording to low-rate HD streaming and FTP transmission, it also supports 1080/50p, 59.94p acquisition and 3G-SDI output. It comes equipped with a P2 card slot*2 and microP2 card slots. Network functions** support wired LAN, wireless LAN, and 4G/LTE connectivity. New workflow functions include Wireless Preview/ Remote with PC/Mac, tablet device or smartphones, Rec during Uploading, and On-Air Streaming. An SDI input and wireless slot are also featured, providing all-round networking support.
The AJ-PX380G also features an integrated studio camera adapter, enabling easy conversion of this versatile camera into a fully functional studio camera system. Connecting to the optional AG-BS300G base station by just two standard HD-SDI cables*3 the system provides full remote control of camera function and recording*4 in addition to return images and intercom functions.
The AJ-PX380G also comes in two variations, one consisting of only the high definition camera recorder,*5 and the other AJ-PX380GF comes complete with a FUJINON 17x Zoom Lens and AG-CVF15G Colour HD Viewfinder. 
*1: AVC-ULTRA is the name of Panasonic's professional video codec family. The AJ-PX380G does not support all of the formats included in the AVC-ULTRA family.
*2: The AJ-P2AJ1G memory card adaptor cannot be used.
*3: maximum cable length 100 meters.
*4: The optional AG-EC4 extension control unit is required.
*5: This model is not available in some regions. ** For 4G/LTE 3rd party module is required, availability of this function may very dependent on area, Optional wireless module AJ-WM30 required for wireless LAN functions, see 'Service and Support' on the Panasonic website http://pro-av.panasonic.net for more details. The use of DCF Technologies is under license from Multi-Format, Inc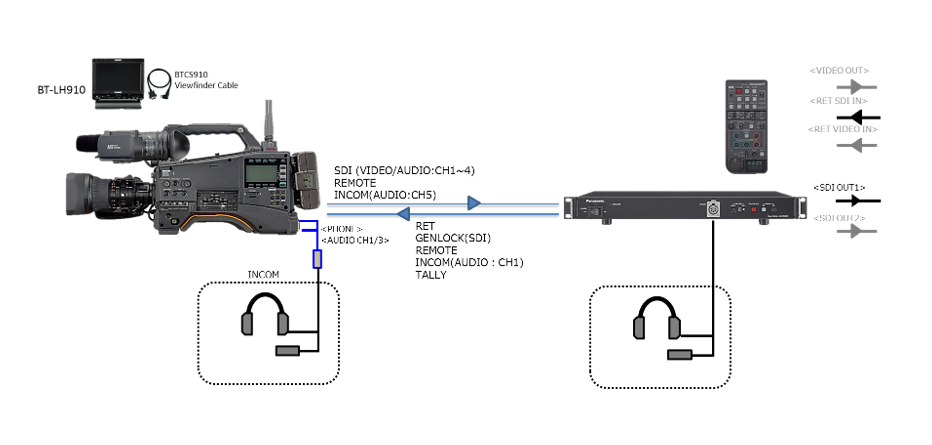 Other Features
Featuring the 2.2-megapixel 1/3-type 3MOS image sensor, this advanced camera recorder achieves high F12 (50Hz) / F11 (59.94 Hz) sensitivity and excellent picture quality.
1080/50p supported, 1080/50i, 25p, 720p multi-format HD and SD recording. Switchable between 50 Hz and 59.94 Hz for 60i, 60p, 24p and 30p support*1.
Features the AVC-ULTRA*2 multi-codec family, including the popular AVC-Intra100/50, the AVC-LongG50/25 with low-bit-rate Full-HD (1920 x 1080) 4:2:2 10 bit picture quality, and the AVC-LongG12 (8 bit 4:2:0) for extended recording.
Dual-codec recording with the low-bit-rate AVC-Proxy further enhances network operation.
Intrigued studio camera adaptor for fully functional studio applications.
Two standard-equipped microP2 card slots dramatically reduce media costs and enable Simultaneous Rec. and Hot-Swap Rec. One P2 card slot*3 is also equipped. The use of DCF Technologies is under license from Multi-Format, Inc. Versatile Network Functions** Include FTP Data Transfer and Streaming
Wired LAN, wireless LAN, and 4G/LTE connectivity. FTP server uploading and Streaming are supported.
A new function, Rec during Uploading, automatically uploads recorded clips to an FTP server or cloud server. Uploading is done in the background, and recording/playback continues during the transfer.
On-Air Streaming can also be conducted while recording. In addition to selecting from 800 kbps to 6 Mbps (Full-HD), a QoS (Quality of Service) mode is available for streaming. It automatically controls the bit rate and frame rate to match the network conditions, for stable streaming performance.
When connected by wireless LAN, recorded clips can be previewed and metadata can be checked and edited with a PC/Mac, smartphone or tablet device.
P2 ROP App for iPad, is provided, enabling an advanced wireless camera remote function.

Please click here for a list of operation manuals to download.
 
*1: 60i, 60p, 24p, and 30p are actually recorded in 59.94i, 59.94p, 23.98p, and 29.97p, respectively.
*2: Not all AVC-ULTRA formats are supported.
*3: The AJ-P2AJ1G memory card adaptor cannot be used. 
| | |
| --- | --- |
| General | |
| Power | DC 12 V (11.0 V to 17.0 V) |
| Power Consumption | 19 W (body only, 1080/60i, AVC-Intra 100 standard recording status, LCD ON) 58W (with all optional accessories connected and maximum power supplied from each output terminal) |
| Operating Temperature | 0°C to 40°C (32°F to 104°F) |
| Operating Humidity | 10% to 85% (relative humidity) |
| Storage Temperature | -20°C to 60°C (-4°F to 140°F) |
| Weight | Approx. 2.7 kg (6.0 lb) (body only, excluding the battery and accessories) |
| Dimensions | 144 mm (W) x 267 mm (H) x 348 mm (D) (5-21/32 inches x 10-1/2 inches x 13-11/16 inches) Body only, excluding protrusion |
Microphones & Holders
AJ-MC700P
Microphones & Holders
AG-MC200G
Mount Adaptor
SHAN-TM700
Quick Release Tripod Adaptor Plate
P2HD & AVC-ULTRA Accessories
AG-BS300
This new camera studio system boosts the level of cost-performance for a wide range of P2 HD and DVCPRO HD camera-recorders. BNC cables transmit degradation-free HD digital images up to 328' (100 meters). Plus, in addition to giving you full remote control of camera functions and recording, the system supplies power to the camera and provides return images and signals including mic of intercom. The ability to operate with both AC and DC power brings camera extension system recording to a variety of studio and field applications.
P2HD & AVC-ULTRA Accessories
SHAN-RC700
Metadata Handling
AJ-WM50P
The AJ-WM50 is the dual band, compact wireless module for P2HD and AG-DVX200 camera recorders. The WM50 dual band (2.4GHz and 5GHz) makes for a more reliable, stable connection to a network in various environments yet its compact size enables it to fit in the wireless module compartment of the P2HD cameras. 2.4GHz offers strong connection through obstacles and compatible with many devices whereas 5GHz offers stability from radio wave interference (Microwave, Bluetooth, etc).
P2 Cards
AJ-P2E030FG
This P2 card offers up to 30Gb of storage capacity. A single P2 card can record up to 30 minutes with the DVCPRO HD or AVC-Intra 100 codec or up to 60 minutes with the AVC-Intra 50 codec. This large capacity provides sufficient recording time even for a handheld camera recorder or portable recorder with two card slots. With an updated generation of internal flash memory on this P2 card, it ensures that high file transfer speeds and secure data transfer are maintained. This memory card is also impact, vibration and temperature resistant to ensure reliability and uninterrupted recording. 
microP2 cards
AJ-P2AD1G
This adapter extends the benefits of the microP2 cards to existing P2 card user by adapting the SD form factor of the microP2 card into the PCMCIA form factor of the P2 card*.  Furthering the versatility of the microP2 card adapter, its design allows Class 10 or high-quality SD cards to be used in emergency situations to record content (at bit rates only up to 50Mbps) on P2 products. * The microP2 card and microP2 card adapter will not support all P2 products. To use the microP2 card adapter, a firmware upgrade of current P2 hardware is required and a fee maybe charged.
Viewfinder
AJ-CVF25GJ
The AJ-CVF25GJ color viewfinder is newly developed 8.76 cm (3.45 inches) color LCD with approximately 2,760,000-dot resolution and 16:9 aspect ratio, which enables to adjust focus easily. In addition to a normal viewfinder type of usage, the AJ-CVF25GJ serves as an LCD monitor to shoot when opening its eyepiece. The AJ-CVF25GJ can also be opened sideway and used as side panel LCD monitor. The AJ-CVF25GJ is almost the same weight and size of the conventional HD viewfinder and supports Panasonic broadcasting and professional camera recorders and studio handy cameras
Studio Camera Accessories
AJ-CVF70GJ
Full HD OLED Color Viewfinder