Compact 5.7K Super 35mm Cinema Camera
AU-EVA1
Cinema Compact Camera
Scroll down
5.7 K Super 35mm image sensor achieves high-quality 4K/10-bit 4:2:2 images   
14-stop dynamic range, V-Log gamma and wide-colorgamut V-Gamut colorimetry
Dual native ISO of 800/2500 offers very high sensitivity with low noise
High-frame-rate recording of 4K 60 fps/2K 240 fps maximum.
EF lens mount.
The AU-EVA1 camera, with its 5.7K Super 35 mm Sensor, is tailor-made for handheld shooting, but also for use on gimbals, drones and light Jibs. The EVA1 cinema camera is well suited for independent filmmaking, documentaries and music videos as well as camera B for bigger production.
​This product is part of our optional two year warranty program. This program is enhancing one of the best service programs in the industry and offers all customers the best after-sales service possible.
5.7K Super 35mm Sensor
Our compact and lightweight cinema camera, the AU-EVA1 contains a newly designed 5.7K Super 35mm (5720x3016, approx. 17.25 million pixels) sensor for capturing true cinematic film images. By starting at a higher native resolution, the 5.7K sensor yields a higher resolving image when down sampled to 4K, UHD, 2K, and even 720p. The increased colour information results in a finer, more accurate finished image.
Dual Native ISO of 800 & 2500
The EVA1 includes dual native ISO like the VariCam 35, VariCam LT and VariCam Pure. Utilising a process that allows the camera sensor to be read in a fundamentally different way, dual native ISO extracts more information from the sensor without degrading the image. This results in a 35mm camera that can switch from a standard sensitivity to a high sensitivity, while maintaining the same dynamic range and V-LOG curve without any electronic gain. Dual native ISO is allowing cinematographers to use less light on set, saving time and money, as well as allowing for a great variety of artistic choices.
V-Log / V-Gamut
The ability to capture accurate colours and rich skin tones is a must for any filmmaker. Like the VariCam lineup of cinema cameras, the EVA1 contains V-Log/V-Gamut capture to deliver broad colours with a capability of creating 14 stops of dynamic range. V-Log has log curve characteristics that are somewhat reminiscent of negative film and V-Gamut delivers a colour space even larger than film gamut and BT-2020 gamut. The EVA1 will also import the celebrated colour science of the VariCam line.
High Frame Rate Recording 4K 60 fps/2K 240 fps
Users can choose between MOV wrapped codecs up to 10-bit 422 even in 4K, as well as AVCHD. Capturing internally in 4K, UHD, 2K, Full HD and HD, the EVA1 offers up to 59.94fps/50fps for 4K/UHD, up to 120fps/100fps for 2K/Full HD (without cropping), or 240fps/200fps
(4/3"cropped area) for high-speed capturing.
Cinematic Run & Gun
Weighing only 1.2Kg (body-only) with a compact form factor (17cm x 13.5cm x 13.3cm) and a removable handgrip, EVA1 can be used for efficient handheld shooting applications and can also be mounted on a drone, gimbal rig, or jib arm for complex yet smooth camera moves. The adjustable handgrip offers several controls, including menu, REC start/stop, iris and two user defined buttons. The LCD monitor features a touch-panel function and allows flexible mounting.
Low-Cost Media / SD Card Recording
EVA1 records to two SD card slots, with the option to capture footage with Relay Rec (continuous record) or Simul Rec (simultaneous dual record). There's also one shot record, which enables single frame video for stop motion capture.
EF-Mount Lenses
The camera utilises a native EF-mount, giving shooters access to the broad EF lens ecosystem, including dozens of cinema-style prime and zoom lenses from numerous manufacturers.
E.I.S. & Integrated ND Filters
Electronic Image Stabilisation (EIS) is employed to compensate for camera shake and blurring, which will help smooth out handheld or shoulder-mount shots on documentary or run-and-gun projects. Behind the lens mount, an integrated ND filter wheel in 2, 4, and 6 stops allows for precise exposure control. The EVA1 also allows the IR Cut filter to be swung out of the path to the sensor at the push of a button. Unique photographic effects and night vision imagery are possible with this control over infrared.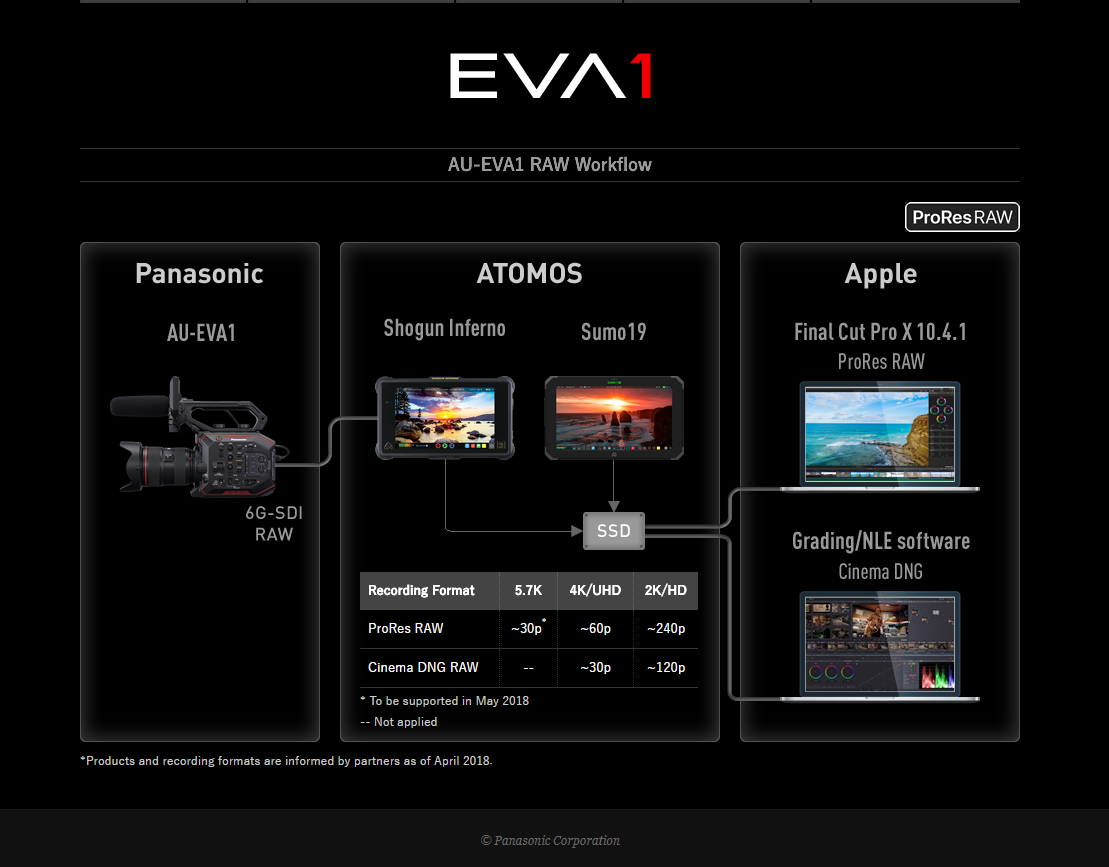 Professional Features
As a professional video production tool, the EVA1 offers dual balanced XLR audio inputs with Dolby Audio™ * encoding. 4K-capable video outputs in both HDMI and SDI. where each can be adjusted separately, allowing HD to be fed to a viewfinder or other third party monitor while 4K is sent to an outboard recorder or monitor. Timecode In/Out is also supported on the EVA1 unlike some other cameras in its class. With the addition of the AJ-WM50 WiFi adapter, all EVA1 menu functions can be controlled remotely on IOS or Android using the dedicated app.
* Dolby, Dolby Audio, and the double-D symbol are trademarks of Dolby Laboratories.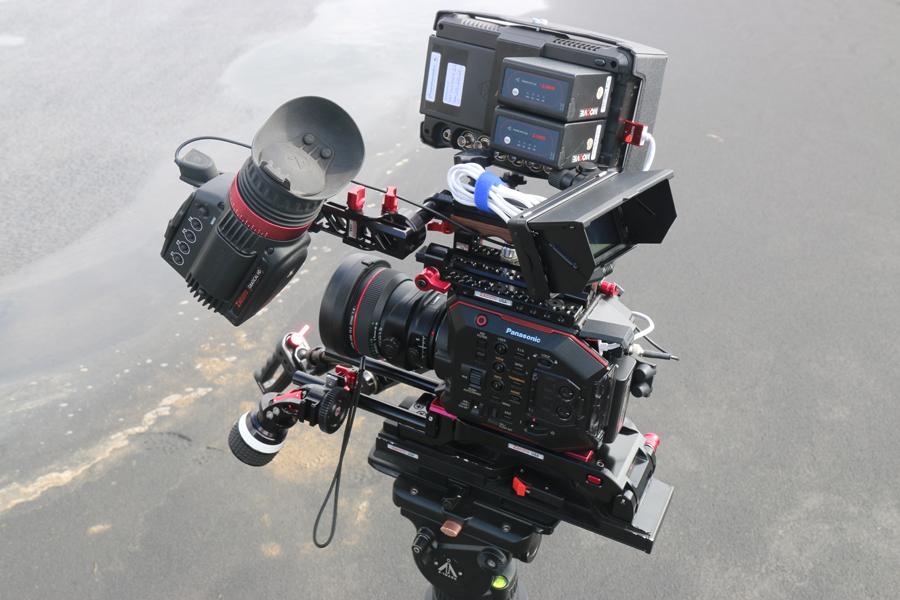 Firmware Version 3.0
4K 50p/60p 10BIT WITH NEW HEVC H.265 CODEC
10bit 4K/HDR Image at 50p/59.94p (included VFR)
HEVC (High Efficiency Video Codec): 200Mbps (4K 50p/59.94P)/150Mbps(4K 29.97P)
Smooth Playback on a PC installed Intel CORE i7 of 7th Gen. or later
IP CONTROL SUPPORT
Three USB-LAN(RJ45) adapters available for IP control with a tablet/smartphone (iOS/Android) or a 3rd party's controller (CyanView for EVA1 multicam shooting)
Added User Button functions for quick switching of shooting modes & frame rate
 
OTHER FUNCTIONS
SDR (REC.709) color output on LCD/SDI/HDMI for monitoring when HLG (Hybrid Log Gamma) is selected
Focus position indicator (m/ft) on OSD
AWB Memory 2ch (A/B ch) support
Still Image Capture : capturing JPEG image when playback mode
Sensor
Super-35
5.7K (5720x3016)
Dual sensitivity ISO 800 & 2500
Beautiful Colorimetry
Lens / Image Path
EF Mount
Electronic Image Stabilization (EIS)
IR Cut In/Out
ND Filter Wheel (2/4/6 stops)
Processing
4K60p / 2k up to 240p
422 10-bit & RAW
Video Codec up to 400 Mbps for Robust Recording
V-log & V-gamut: 14 stops dynamic range
SD Card recording
5.7K RAW Output (future update)
| | |
| --- | --- |
| Image Sensor | Super 35 mm, MOS sensor |
| General Specification | |
| Power | DC 7.28 V (battery operation) DC 12 V (AC adapter operation) |
| Power Consumption | 19 W (with LCD/HDMI/SDI ON) |
| Operating Temperature | 0 °C to 40 °C (32°F to 104°F) |
| Operating Humidity | 10% to 85% (relative humidity) |
| Storage Temperature | -20 °C to 60 °C (-4°F to 140°F) |
| Weight | Body: Approx. 1.2 kg (2.65 lb) (excluding accessories) Shooting: Approx. 2.05 kg (4.52 lb) (with accessories) |
Batteries and Chargers
AG-VBR118G
Battery for AG-DVX200 4K Camcorder and AJ-PX270 Handheld HD Broadcast Camcorder
Batteries and Chargers
AG-VBR89G
Battery for AG-DVX200 4K Camcorder and AJ-PX270 Handheld HD Broadcast Camcorder
Batteries and Chargers
AG-VBR59
Battery for AG-DVX200 4K Camcorder and AJ-PX270 Handheld HD Broadcast Camcorder
Batteries and Chargers
AG-BRD50
The AG-BRD50 Dual Battery Charger can be used with the AG-VBR battery series (AG-VBR118, AG-VBR89 & AG-VBR59) for AG-DVX200 and AJ-PX270.It is also compatible with the VW-VBD55 (AG-AC90 series) and VW-VBG6 batteries (AG-AC160/-130 series).
Microphones & Holders
AG-MC200G
Metadata Handling
AJ-WM50P
The AJ-WM50 is the dual band, compact wireless module for P2HD and AG-DVX200 camera recorders. The WM50 dual band (2.4GHz and 5GHz) makes for a more reliable, stable connection to a network in various environments yet its compact size enables it to fit in the wireless module compartment of the P2HD cameras. 2.4GHz offers strong connection through obstacles and compatible with many devices whereas 5GHz offers stability from radio wave interference (Microwave, Bluetooth, etc).
Viewfinder
AU-VCVF20GJ
The AU-VCVF20GJ Viewfinders is successor to the AU-VCVF10G VariCam Viewfinders, which are highly acclaimed in the cinema production industry. The addition of a newly developed 1080p OLED panel has enabled a high-definition (1920x1080) display. This combines with low latency and sharp, accurate colors to meet the high-end needs of the movie industry for uncompromising image creation. A large-diameter 38-mm eyepiece lens and wide field angle with viewfinder magnification of 0.78x, which are popular with current models, achieve comfortable viewing with Panasonic's unique optical zoom lens inside the viewfinder. Versatile exposure assist and focus assist tools are also featured. Panasonic will continue contributing to video production advances by developing equipment and systems that respond to the needs of the cinema production industry, which is expanding on a global scale. The company will also contribute by supporting high-quality image content as well as efficient production operation.