4K  Super 35mm Cinema Camera
VariCam 35
4K High End Camera Recorder
Super 35mm Native 4K sensor that provides true 4K images with a dynamic range of 14+ stops for HDR image capture
Dual-native ISO settings of 800 and 5000 which achieves much higher sensitivity without increasing noise
Variable frame-rate recording from 1-120fps which enables both overcranking and undercranking
Expansive colour gamut that exceeds BT2020 - the colour space required for HDR content delivery
Modular design allows front-end to be detached from recorder via optional 5m or 20m extension cable
The Varicam line of broadcast cameras has been used on a wide variety of movies, commercials, and TV programs, and is renowned for its colour reproduction, look, and for bringing progressive workflows to the production industry. Drawing on the traditions and concept of the original Varicam line, this camcorder helps its users create emotion with its amazing latitude, wide color gamut, and 4K resolution, and also revolutionises workflow with the addition of dual-codec recording, in-camera colour grading, and a modular design. The Varicam 35 4k camcorder is packed with features. See what you can use to create emotion.
Sophisticated and Versatile 4K Broadcast Camcorder
The Varicam 35 4K camcorder incorporates a newly-developed super 35mm MOS image sensor and AVC-ULTRA family of video codecs. The new camera's superb image handling in multiple formats including 4K, UHD, 2K and HD make it an unparalleled tool for high-end filmmaking, and commercials and episodic production as well as live 4K events.
The Varicam 35 innovative design, includes  the 4K camera module unit  (AU-V35C1), recording module unit (AU-VREC1), which is also interchangeable with Panasonic's new 2/3 type camera module unit (AU-V23HS1). Enabling professionals to switch between s35mm and 2/3 type camera heads to best suit their creative needs.
The Varicam 35 4K Broadcast Camcorder has already been utilised for many professional applications:
The Varicam 35 4K broadcast camcorder utilizes a new Panasonic super 35mm MOS sensor for 4096 x 2160 (17:9) 4K image capture; this imager when combined with the AVC-ULTRA codecs for 4K enables very manageable and practical 4K production file sizes. The new imager boasts an impressive 14+ stops of latitude, and faithfully captures high-contrast, wide dynamic range imagery without compromise. Powerful colour management capabilities provide a much extended colour gamut for impeccable image fidelity, and permit support for an Academy Colour Encoding System (ACES) workflow for full fidelity mastering of original source material.
Among the 4k camera/recorder's top-level production features are real-time, high frame rate, variable speed 4K recording up to 120fps*1, proving the capability for master level 2K/FHD recording; and advanced workflows with parallel simultaneous 4K/ UHD, reference 2K/HD and proxy recordings for in-camera on-set colour grading and monitoring / editing ease.  The 4k broadcast camcorder also features a newly-developed OLED electronic viewfinder (EVF) with optical zoom functionality. Lastly, 24-bit LPCM audio is added for in-camera audio master recording.
The Varicam 35 4K broadcast camcorder will deliver an unprecedented breadth of recording formats, including 4K and UHD in AVC-ULTRA 4K, and 2K and FHD in AVC-Intra 100/200*2. Addressing the need for high-speed file exchange, the camera encodes proxy files in parallel with 4K and 2K production formats, enabling fast, efficient offline editing. It also includes Apple ProRes 4444 and ProRes 422 HQ*3 support for HD recording. The ProRes codec component is licensed from ATOMOS Global Pty. Ltd., which has shipped ProRes recorders for years.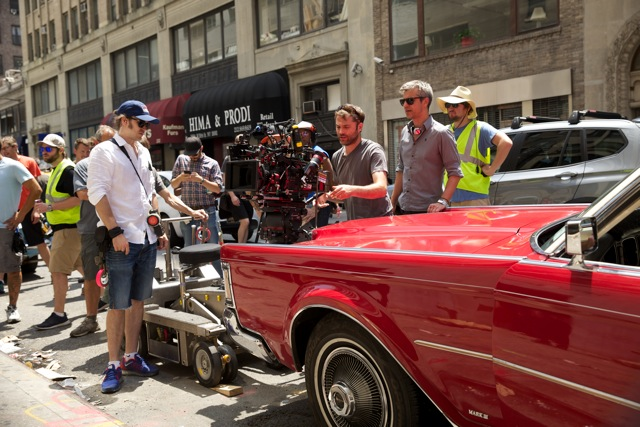 The Varicam 35 4K broadcast camcorder will use Panasonic's new expressP2 card for high frame rate and 4K recording.  The camera is equipped with a total of four memory card slots, two for expressP2 cards and two for microP2 cards. The new expressP2 card can record up to 130 minutes of 4K/24p content.  The microP2 card is designed for recording HD or 2K at more typical production frame rates.
Professional interfaces include: 3G-HD-SDI x4 for 4K QUAD output; 3G-HD-SDI x2 for RAW output; an HD-SDI out for monitoring (down-converting from 4K); and two XLR inputs to record four channels of 24-bit, 48KHz audio. A multi-connector facilitates docking the camera head to the recording module. In another striking design innovation, the Varicam 35 boasts a removable control panel to facilitate real-time control and easy access when the camera is in a fixed position. The Varicam 35 features a standard 35mm PL mount.
*1 Future Firmware Upgrade.
*2 AVC-Intra200 is available only for FHD recording.
*3 The Apple ProRes format is licensed from Apple Inc.
| | |
| --- | --- |
| General (Combination of AU-V35C1G and AU-VREC1G) | |
| Power | DC 12 V(11.0 V – 17.0 V) |
| Power Consumption | 69 W (Body only) 99 W(with all optional accessories connected and maximum power supplied from each output terminal) |
| Operating Temperature | 0°C to 40°C |
| Operating Humidity | 10% to 85% (relative humidity) |
| Storage Temperature | −20°C to 60°C |
| Weight | Approx. 5.0kg (Excluding protrusion) |
| Dimensions (W x H x D) | 179 mm×230.5 mm×347 mm (7-1/16inches x 9-1/16inches x 13 -21/32inches) (Body only, excluding protrusion) |
VariCam Accessories
AU-V35C1G
4K PL Mount Varicam 35 Camera Module
Microphones & Holders
AJ-MC900G
Microphones & Holders
AJ-MH800G
Metadata Handling
AJ-WM50P
The AJ-WM50 is the dual band, compact wireless module for P2HD and AG-DVX200 camera recorders. The WM50 dual band (2.4GHz and 5GHz) makes for a more reliable, stable connection to a network in various environments yet its compact size enables it to fit in the wireless module compartment of the P2HD cameras. 2.4GHz offers strong connection through obstacles and compatible with many devices whereas 5GHz offers stability from radio wave interference (Microwave, Bluetooth, etc).
P2 Cards
AJ-P2E030FG
This P2 card offers up to 30Gb of storage capacity. A single P2 card can record up to 30 minutes with the DVCPRO HD or AVC-Intra 100 codec or up to 60 minutes with the AVC-Intra 50 codec. This large capacity provides sufficient recording time even for a handheld camera recorder or portable recorder with two card slots. With an updated generation of internal flash memory on this P2 card, it ensures that high file transfer speeds and secure data transfer are maintained. This memory card is also impact, vibration and temperature resistant to ensure reliability and uninterrupted recording.