Demystifying the hype from the hope in 5G
written by: Nathalie Vervaet, Sales Enablement Specialist Enterprise Europe & Björn Kränke, Regional Sector Manager Enterprise – DACH/CEE/Turkiye |  PANASONIC TOUGHBOOK
Scroll down
It may feel like the world has been talking about the potential benefits of 5G for years, however, for many organisations thinking about tapping into the benefits of 5G across Europe, it's still relatively early days. 5G offers significantly improved performance over earlier network technologies; download and upload speeds are faster, and it can support a greater number of devices, providing better reliability and connectivity. But amongst all the hype, there are a lot of falsehoods around what 5G can deliver and in this blog, we aim to debunk eight of the top myths we hear all the time.
Myth 1 – The 5G future is already here and available for everyone
Today mobile network operators (MNOs) are promoting 5G to consumers, and phones and devices regularly suggest that they are now connected to 5G. But the reality for most consumers and businesses on public 5G is that it has been rolled out on existing 4G infrastructure. The industry calls this 5G non-standalone or 5GNSA.
Why is this important? Because it means that users might think they are getting all the benefits of 5G, but in reality, they are just scratching the surface. For example, mobile performance tests between a 5GNSA versus 4G show almost no difference at all. 
While 5GNSA might offer better reliability, connectivity, and be faster, the full potential for 5G lies in 5G standalone (5GSA) and enterprise adoption, where it offers unparalleled latency and performance, AR, VR, 3D videos, and real-time applications at speed. Additionally, it is worth noting that if you plan to set up a private 5G network, you need a device with a chip that supports 5GSA, you can't do it with a device that only supports 5GNSA.
Myth 2 – All 5G is equal
As you are already starting to realise, not all 5G is equal. As well as standalone and non-standalone 5G, you can also choose different types of 5G network. There are three types: public, sliced, and private 5G networks. 
Public is what most consumers use, and it provides standardised services supported by MNOs. Sliced 5G networks are still owned by the network operators but they slice and customise parts of the network for specific needs, groups, applications, or services. These are better suited to businesses because they can be partially customised to meet an organisation's needs, but the MNO still ultimately owns the network and for many organisations this still leaves worries around security, control over network management, and ongoing costs. 
Private 5G networks are designed for exclusive use and are dedicated to the enterprise that deploys the network. Private networks deliver all the security, control, customisation, and performance that an organisation needs, enabling the optimisation and prioritisation of network traffic. 
Here at Panasonic Mobile Solutions, we have developed a 5G private network architecture (5G Campus) with devices with a 5GSA chip from the ground up - which means it is true 5GSA - bringing all the control and security our customers need while offering the full capabilities of private 5G to organisations.
Myth 3 – Everyone needs 5G, now!
For high mobility, logistically complex industries, from airports to high-tech manufacturing, 5G is a revolutionary technology. Where does it help? It can offer high speed mobility with uninterrupted connectivity, real time communications and applications, flexibility without cables and support for IoT Devices and applications, all with enhanced security.
For example, it's ideal for airports and ports where there are lots of large, sometimes moving, obstructive metal objects that can block other communication technologies. It enables manufacturing facilities to quickly reconfigure and connect production lines. It's perfect for utility companies to deploy remote and automated monitoring and maintenance systems using the Internet of Things (IoT). The list goes on, but it is important to remember that sometimes a good Wi-Fi connection, if it suits your requirements, is all you need. So, make sure you work with providers that can offer independent advice and the right solution for your needs.
Take a look at our flow chart to get a better idea of whether a 5G private network is right for your business. 
Myth 4 - Bigger is always better
Another popular myth is that for 5G to work effectively you need a big antenna to provide coverage to a wide area. But, in fact, the opposite is true. A campus of multiple, connected small antennas and cells will deliver a much more efficient and consistent network – without the unsightly and intrusive large antenna! 
With a simple onsite visit, it's possible to review each customer's requirements, understand the purpose and use cases for the private network and then calculate how many cells are required.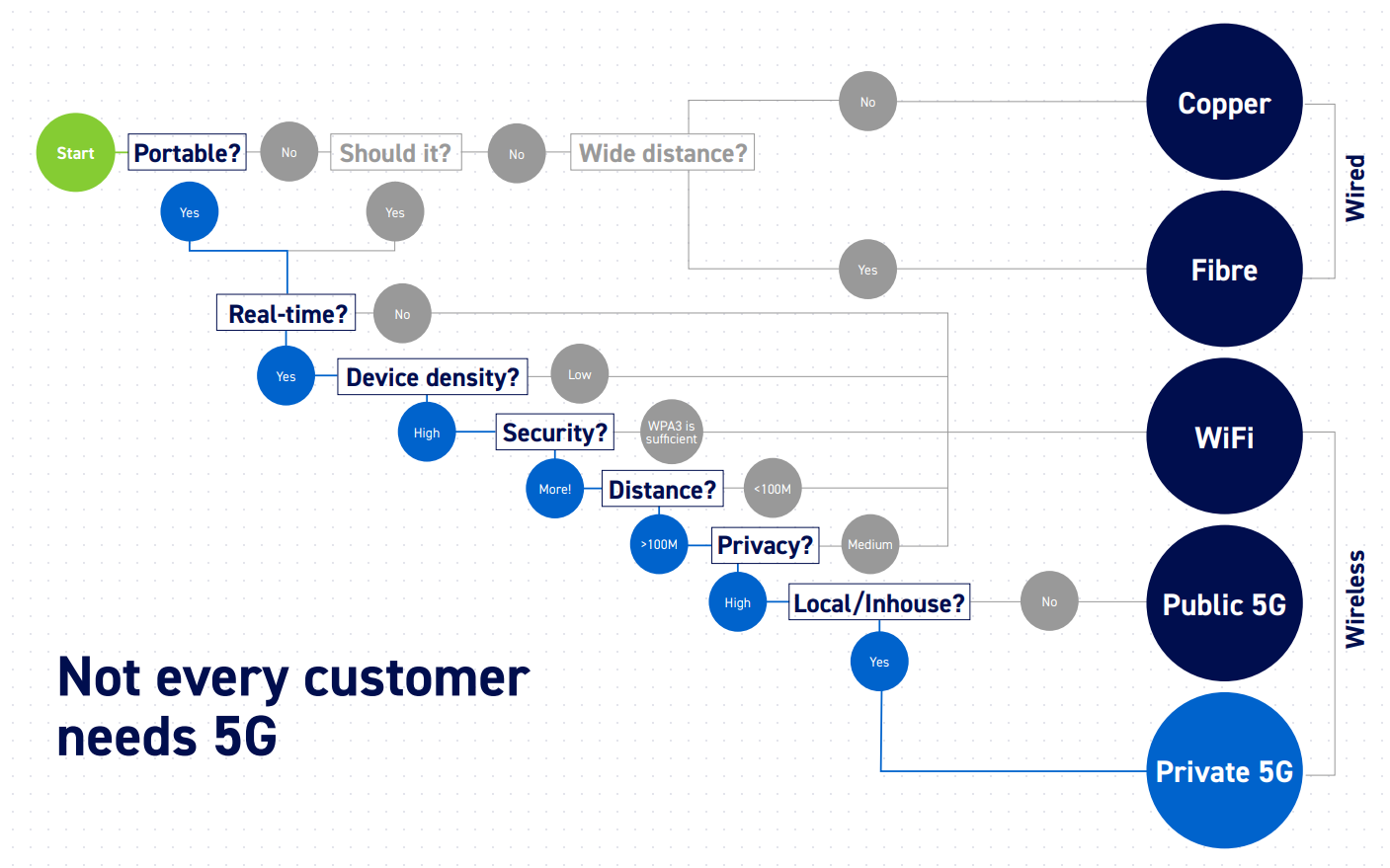 Myth 5 – 5G operates on one type of frequency band
There are two types of 5G frequency bands. Sub-6, which offers good coverage and can penetrate obstacles relatively well, is more suitable for WAN coverage. The second type, mmWave, provides extremely high data transfer rates but has limited coverage and can be impacted by obstacles (buildings, walls etc.). In Europe, only sub-6 is currently available, in the US there are trials with mmWave, but as of yet no devices in the market that support it. 
Myth 6 – You can set up a private 5G network without any authorities involved
Customers looking to establish a 5G private network should be aware of the application processes and necessary paperwork they must complete to run their own 5G private network. Local country authorities want to know when and how networks are being implemented, and regulations and frameworks will vary from country to country. Beware - each country has its own licensing requirements, technical specifications, and specific restrictions. The good news is that here at Panasonic Mobile Solutions we carefully guide our customers through this process. 
Myth 7 - Any devices can connect 
To utilise a private 5G network, devices need two criteria; a chip that supports the licensed sub-6 band, and a licence for the chip to support 5GSA. We have manufactured and designed two devices that are equipped for Private 5G – the TOUGHBOOK G2 and the TOUGHBOOK 40, each sporting our own TOUGHBOOK tested and manufactured antenna. We can offer customers 5G hardware and software 'out-of-the box', and we guide them through the process of setting up their private 5G network. Additionally, our rugged devices are built to withstand incredibly challenging environments.
Myth 8 – It's still too early for 5G private networks 
The final myth to highlight is the naysayers who advocate waiting for the next or more established versions of 5G. 5G is the future and will become the dominant network technology. Rather than being left behind, why not get ahead, create a competitive advantage for your business, and realise all the benefits of adoption including enhanced data security, low latency, high availability and increased network customisation? The convergence of 5G and private networks is poised to reshape the way we connect and communicate, and it will transform many aspects of our business lives. 
5G private networks hold immense promise. However, it is important to choose a strategic partner that can help realise the full potential of your investments. We are pioneers supporting the adoption of 5G private networks across Europe combining the best of 5G network benefits with Panasonic TOUGHBOOK devices built for 5GSA and the technical support from experienced industry vendors.
Sorry there was an error...
The files you selected could not be downloaded as they do not exist.
You selected items.
Continue to select additional items or download selected items together as a zip file.
You selected 1 item.
Continue to select additional items or download the selected item directly.