16-bit A/D converter
38-bit Digital Signal Processing (DSP)
Enhanced DTL Signal Processing
For studio and field applications
16-bit A/D converter
38-bit Digital Signal Processing (DSP)
Enhanced DTL Signal Processing
New generation HD studio camera
AK-HC3500A – camera head

The Panasonic AK-HC3500A 2/3-type HD Studio Camera is a professional, multi-format camera that captures 1080i video using three 2/3-type 2.2-megapixel CCDs. By combining a 16-bit A/D converter with 38-bit digital signal processing, the camera's low smear level and reduced moiré contribute to exceptional imagery even in lowlight environments.
A variety of image controls go further to improve image quality depending on the shooting situation, with such high-performance functions as dynamic range stretch, cine gamma curve, skin tone detail correction, and enhanced DTL signal processing. In keeping with its "multi-format" designation, the AK-HC3500A shoots 1080/59.94i, 1080/50i, 1080/29.97psF (over 59.94i), 1080/23.98psF (over 59.94i) and 1080/25psF (over 50i) HD formats. AK-HC3500A has VBS out as standard for prompter output.
The AK-HC3500A utilizes Panasonic CCD sensor technology and the improved on-chip lens performance offers a high sensitivity of F10 (1080/59.94i) or F11 (1080/50i) at 2,000lx, a low smear level and an excellent signal to noise ratio of 60 dB. Panasonic's single-channel transfer system and spatial-offset processing technologies improve signal modulation depth and reduce moiré.
Combine this with the 16-bit A/D conversion; a newly-developed 38-bit Digital Signal Processing (DSP) and Panasonic's original real-time gamma correction to enable high quality images with Dynamic Range Stretch (DRS) and other high-performance functions makes the Panasonic AK-HC3500A a world class leader in studio acquisition.

Designed for easy operation and expandability The AK-HC3500A incorporates Panasonic's extensive broadcast camera design know-how to provide even easier operation. Convenient features include a backlight on the rear operation panel for improved operation in dark settings. In response to customer requests, we have made numerous improvements over prior models.
These include optimal weight balance, boosted efficiency when used with a build-up unit, and a low centre of gravity for more comfortable handling. Thanks to this advanced design, the AK-HC3500A helps to reduce user fatigue while assuring exceptional efficiency both in the studio and at outdoor venues.
High sensitivity, high resolution picture with less moiré and a vertical smear level less than -130dB
Dynamic Range Stretch Function (DRS) and Cine Gamma Curve
Switchable HD/SD output formats
AK-HCU355A – camera control unit

The Panasonic AK-HCU355A Camera Control Unit supports high definition 1080/59.94i, 1080/50i, 480/59.94i, 576/50i, 1080/29.97psF (over 59.94i), 1080/23.98psF (over 59.94i), 1080/23.98psF (over 47.96i), 1080/25psF (over 50i), 1080/23.98psF and 1080/25psF output, and 1080/50i/59.94i, 576/50.00i, 480/59.9 RET IN formats. It's designed to work with the AK-HC3500A production/studio camera for studio and EFP (electronic field production) applications.
The Camera Control Unit manages critical camera functions, with low power consumption of only 40W - reducing the heat dissipation. This compact, half-rack width (200 x 125 x 400 mm) and light weight (9Kg), control unit can be easily carried in flypacks and OB vans, thus offering efficient all-round versatility. In addition, the AK-HCU355A offers a host of connectivity options including 4 HD/SD-SDI lines, 2 Analogue composite lines, waveform monitor output, and return video, prompter inputs.

 
Key features / benefits
Camera Control Unit designed for the AK-HC3500A
Versatility Multi-connection for easy of installation
Compact size and light weight

AK-HRP935A – remote operation panel

The Panasonic AK-HRP935A Remote Operation Panel, compact 1/4-type rack size, allows easily adjustment of AK-HC3500A and AK-HC3800 camera system parameters remotely. Fully control of camera settings with joystick-type iris control. 
Key features / benefits
Compact size for easy installation in small spaces
Full remote control of AK-HC3500A and AK-HC3800 parameters
Joystick-type iris control
AK-MSU935A – master setup unit

The AK-MSU935A, master setup unit (MSU) has the ability to adjust the entire range of parameters in the studio camera and can be connected to up to 12 camera systems (AK-HC3500A and AK-HC3800). It has a large 16cm LCD display and direct access keys for menu settings, allowing easy  and quick operation of all camera functions.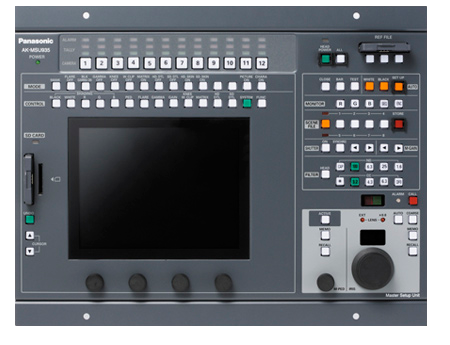 SD memory card slot allows for storing and recalling three user references, eight scene files and sixteen lens files.  Small and light weight, measuring in at 340mm x 75mm x 264mm and only 3.25kg the AK-MSU935A can be easily installed in either the OB van or studio.

 
Key features / benefits
Control of up to 12 camera systems (AK-HC3500A and AK-HC3800)
Large 16cm LCD display for easy operation
SD memory card slot for storing/recalling settings
AK-HVF70E - viewfinder
The AK-HVF70E is a 17,8cm LCD color viewfinder with light weight, low power consumption and a high resolution plus versatile assist functions like focus-in-red and pixel-to-pixel. By direct connect functionality no separate cable is necessary to connect the VF to the studio camera.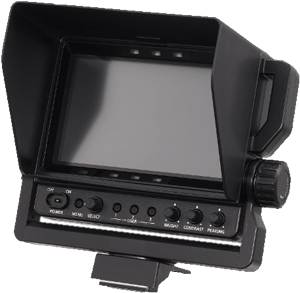 Key features / benefits
Weight: 1.8kg 
Resolution: 1024 x 600 (WSVGA)
Focus assist functions (focus-in-red, pixel-to-pixel)
Three assignable function keys
Contrast, brightness and peaking are adjustable
Tilt angle: 90° upward and 60° downward
Please click here for a list of operation manuals to download.
| | |
| --- | --- |
| Power Consumption | 37 W (excluding power supply), 340 W (include power supply) |
| Power Supply | AK-HC3500AP: 32W (during external power supply operation) 34W (when CCU is coneected) AK-HC3500AE/AK-HC3500AES: 28W (during external power supply operation) 70W (when CCU is coneected) |
| Operating Temperature | –10 °C to 45 °C (14°F to 113°F) Preheating required at temperatures below 0°C (32°F) |
| Operating Humidity | Less than 85 % |
| Storage Temperature | –20 °C to 60 °C (–4°F to 140°F) |
| Weight | Approx. 4.7 kg (approx. 10.36 lb) |
| Dimensions (W x H x D) | 135 mm x 260 mm x 360 mm (5-5/16 inches x 10-1/4inches x 14-3/16 inches) excluding protrusions |
| Pickup Devices | 2/3 type 2.2 million pixel IT, CCD x 3 |