The Benefits of the Panasonic PT-RQ50K over LED Displays
This exclusive Whitepaper draws on experiences of some of largest rental & staging companies in Europe
In recent years LED displays dominated the market for use as video walls and stage backdrops. The main argument was the image brightness and contrast that LED has offered which made it a superior experience over projection. But technology evolves and Panasonic has again understood to raise the bar. With the introduction of PT-RQ50K a 50,000 lumen, 3 Chip DLP projector a new contender has entered the arena and has proven  to outperform the LED Display.
This whitepaper is built on interviews and experiences with some of Europe's largest rental and staging companies.
The comparison between PT-RQ50K projector and LED is looking at both set ups from many angles such as
Operation cost
Picture performance
Creative advantages
REGISTER NOW TO DOWNLOAD THE WHITEPAPER
We took some of the most common examples from events to explain the different results of typical work flows. How much time, how many flight cases and how many trucks are needed to create a 4 screen event each measuring 9.6m x 6m delivering 4k resolution images. But it doesn't stop on an economic scale as picture quality means almost everything and Panasonic projector technology doesn't compromise on that.
In terms of brightness the 50k lumen projector(s) delivers a very comparable brightness with a significantly reduced power consumption. But it's real strength comes also to light when latest trending events with 8k resolution are set up where the audience is closer to the viewing screen. LED clearly has show weakness here.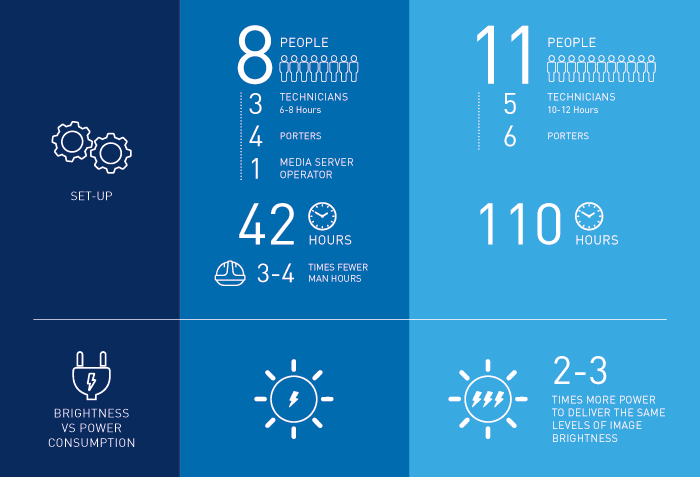 Last but not least we checked the creative challenges and found many advantages for projection. A simple single backdrop (projector) versus a complex base construction (LED). The freedom to project any shape onto any surface versus inflexible square or rectangular LED construction plus the advantages to deliver camera close ups to the audience not compromising on a loss of picture quality which is the case with LED unless narrow pixel pith LED are used which results even in an additional cost up.
Download the whitepaper to find out how you can be more flexible and how to increase revenue opportunities