High brightness professional display with built-in LinkRay™ technology
TH-49SF1H
Discontinued
49" LCD IPS Panel, 500 cd/m2, 24/7 operation, portrait mode
49", 700 cd/m2, 6,3 mm bezel width
High brightness and strong reliability enable continuous 24/7 operation with highly durable panel
System expandability : USB media player and DIGITAL LINK functions enable simple setup and low system costs
High-performance image engine for optimal picture adjustment
49", 700 cd/m2, 6,3 mm bezel width
Built-in LinkRay™ transmission function allowing to send digital information to smartphones using an app
High brightness and strong reliability enable continuous 24/7 operation with highly durable panel
High-performance image engine for optimal picture adjustment
System expandability : USB media player and DIGITAL LINK functions enable simple setup and low system costs
Built-in LinkRay transmission function allowing to send digital information to smartphones
Panasonic has developed a unique, high-speed backlight control technology, which allows the transmission of digital content using the light emitted by the display and a mobile app.
The ID signals transmitted from the screen are read by the smartphone* on which the user will immediately view interactive and customized information, such as as traffic guidance or marketing incentives for instance. The displayed content can also be delivered in the smartphone owner's native language.
Users receive content quickly, easily and securely through a simple, fast, intuitive and impactful experience.
*Panasonic provides a free dedicated LinkRay Solution app for iOS/Android™. Panasonic also provides an SDK (Software Development Kit) that enables collaboration with third-party app developers.
LinkRay Benefits
Simple signage with a LinkRay-Compatible USB Media Player
The SF1H series features a USB media player. This makes Signage operation easier, by simply inputting the desired content (still images or videos) to be displayed via USB, eliminating the need for a set-top box.
The content on the USB memory can now also be used in combination with LinkRay ID signals*, to configure an interactive signage system. 
*A separate contract for a Light ID license must be concluded with Panasonic to configure a LinkRay system. 
. Content shown on the display can be linked to various digital information sent to the smartphone
Multiples Light IDs can be individually linked to match with each content shown on the display. This allows more information to be delivered on a single display.
. Standalone type
Produced playlists are stored in USB memory. When the memory device is inserted into a display, the content is automatically played.
. Easy playlist production
A playlist can be easily produced using Multi Monitoring & Control Software (free). The playlist is stored in a USB memory device and inserted  into the display unit (standalone type). The playlist can also be delivered to a number of displays on a specified, LAN-connected network, and easily rewritten (multiple device delivery type).
Download the software from our Website
. Multiple device delivery type (Intranet)
Content is delivered from a single PC to multiple displays on a specified network. With Multi Monitoring & Control Software, it is possible to remotely change the content of the USB memory via LAN after installation. Content can then be changed even when the display is not easily accessible. Data can be delivered according to a schedule enabling smooth and easy operation.
•Synchronized playback is not possible.
Stylish design and high visibility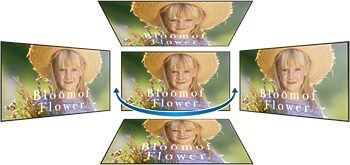 The IPS Panel provides a wide viewing angle and minimal colour fluctuations
There is very little change in colour, compared with the VA panel, when the screen is viewed at right or left angles, so the images are crisp and clear. This is ideal for providing correct information in crowded places, such as public spaces and facilities. In addition, the powerful image engine allows to provide the highest picture quality, by automatically refining image parameters such as colour tone, colour density or brightness level, as well as correcting imperfections like blurry contours and noise effects.
Flexible installation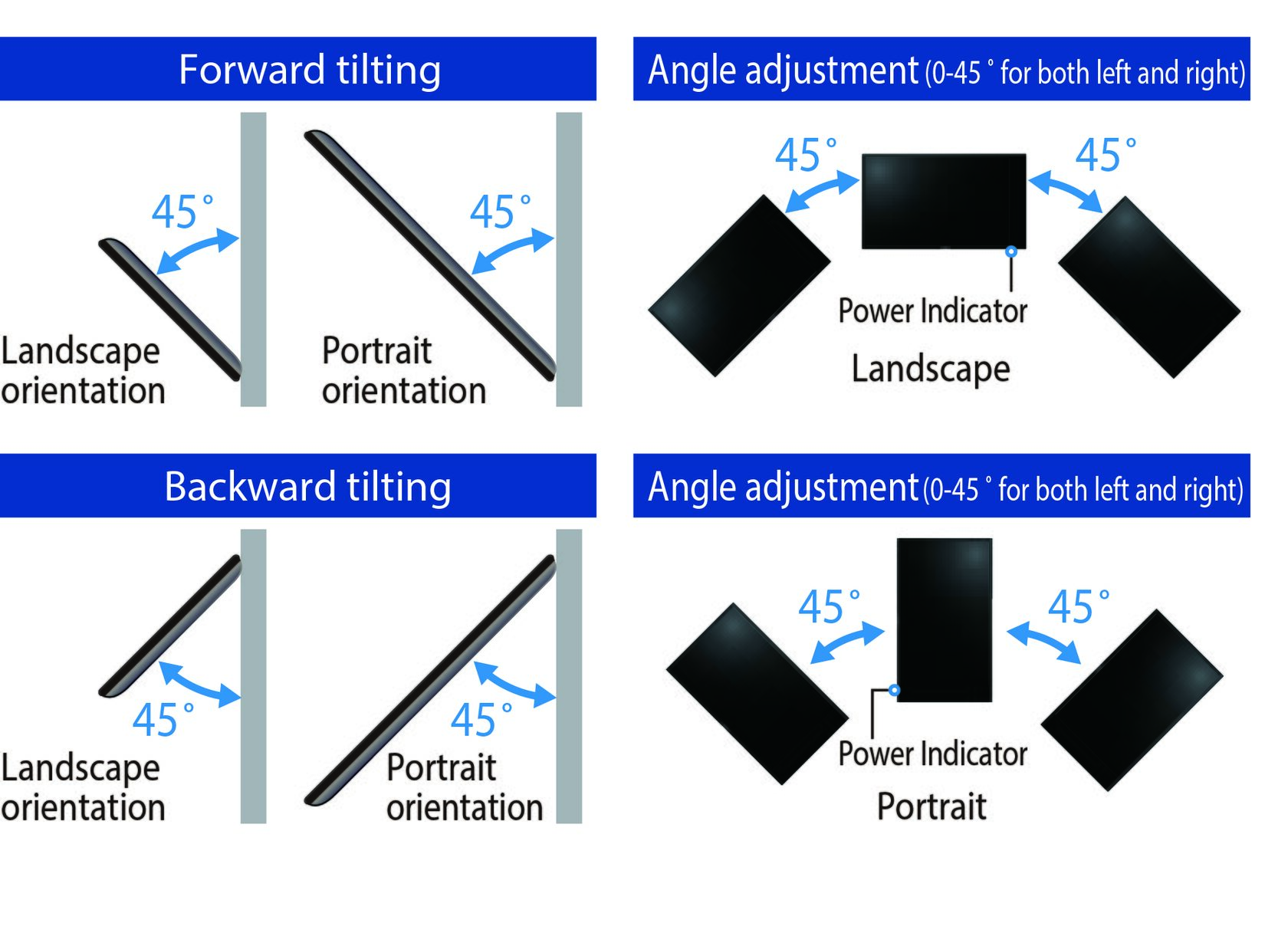 Choose the installation to match your application
The SF1H Series is designed for use in either portrait or horizontal orientation with no effect on panel colour and lifespan, further reducing TCO. A tilt installation up to 45 degrees forward or backward is also possible. The angle can be adjusted for easy viewing when installed in a high location.
Efficiency and reliability for continuous 24-hour operation
The use of highly durable panel materials and quality electronic components ensures dependable 24-hour operation seven days a week. This makes the SF1H Series ideal for installation in retail, hospitality, transport, entertainment industries, and other applications... where absolute reliability is critical.
DIGITAL LINK function enables simple installation and low system costs
Using DIGITAL LINK makes it possible to transmit video, audio and control signals over a long distance (up to 150 m (492 ft)) with a single LAN cable.*1 Easy cabling also reduces labour during setup. This provides transmission of high-quality images and sounds, as well as remote control.
*1 When connected with the [Long reach] mode, the maximum transmission distance is 150 m (492 ft). In this case, the unit can receive the signals of up to 1080/60p. A CAT5e (STP) cable or higher is required.
Cloning function
Cloning function saves labour when setting up multiple devices
You can easily copy the setting data of a master display to other displays using USB memory. This saves labour when making screen settings during the installation of multiple devices.
* If the inch sizes/series for the displays differ, the cloning function does not operate. Use common inch sizes/series.
Failover and failback
Failover and failback safeguards for mission critical situations
The SF1H Series is equipped with a variety of signal input terminals : two HDMI, DVI-D, DIGITAL LINK, and USB. If the main video and audio signals are interrupted, the system immediately switches to alternative signals. This makes it ideal for mission critical control rooms and surveillance centers. If the main signals are restored, the original image is displayed.
Multi Monitoring & Control Software
Multi Monitoring & Control Software (Free) lets you control devices in groups

This free Panasonic software enables you to monitor and control up to 2048 devices over a LAN network from a single PC. As a monitoring 
function, the status of multiple devices can be listed in groups, and then detailed information on each device can be separately displayed. As a control function, control commands such as power ON/OFF, input switching and command inputs can be executed, and a schedule function can be used.
Early Warning Software
Compatible with "Early Warning Software" for predictive maintenance
The SF1H Series support Early Warning Software (optional: ET-SWA100), which monitors the status of devices (projectors or flat-panel displays) connected to an intranet, reports device failures, and gives advance warnings by detecting predicted abnormalities, after installation to the PC has been completed. The status of displays in an intranet is observed, and problems are forecast, the occurrence of other problems is sensed, and notification is sent to the user. 
* The use of this software will not detect malfunctions in all devices and equipment in advance.

| | |
| --- | --- |
| Screen Size | 49-inch (1232 mm) |
| Panel Type | LCD IPS Panel/E-LED |
| Aspect Ratio | 16:9 |
| Effective Display Area (W x H) | 1074 x 604 mm (42.2" x 23.7") |
| Number of Pixels (H x V) | 1920 x 1080 pixels |
| Brightness | 700 cd/m2 |
| Contrast Ratio | 1300:1 |
| Dynamic Contrast | 50000:1 |