Retail solutions on show to improve in-store experience, security and stock optimisation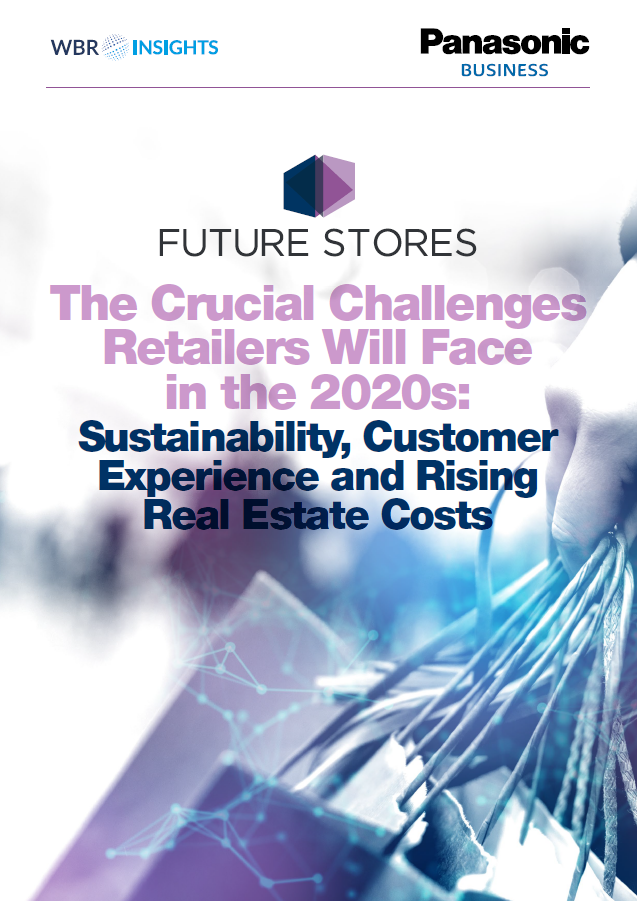 Düsseldorf, Germany. 17th February 2020 – Innovative technologies to address retailer challenges in the 2020's will be on show from Panasonic at EuroShop, the retail trade fair, being held in Düsseldorf, Germany, from February 16-20th. Retailers facing the challenges of changing shopper habits and falling footfall at brick-and-mortar-stores are looking to innovative technology solutions to drive their businesses in the 2020's, recent research for Panasonic Business indicates.
The key areas where technology could help include improving the customer in-store experience, personalised digitalised marketing, stock supply and security.
WBR Insights and Panasonic surveyed 100 Heads of Retail and equivalent roles from companies across Europe for the latest in a series of retail whitepapers. Results show 34% of retailer respondents are allocating 11-20% of their budgets towards customer experience innovation. Investing in innovative technology is also increasingly popular with retail brands. 57% are planning on automating their shopper engagement over the next two years. 52% will automate data analytics and 51% said they will roll-out electronic shelf labels during the next two years.
Some of the other areas respondents said they were interested in automating included supply chain automation, mobile POS and customer service kiosks. The research is the fourth in a series of Retail Instore Insights whitepapers published by Panasonic. Previous topics, produced in association with experts like Germany's EHI Retail Institute and the UK's leading industry magazine 'Retail Week', include the GDPR Checklist for Retailers, Super Charged Stores and the Digitalisation of Retail.
Retailers visiting Panasonic at EuroShop (Hall 6/Booth H58) will have an opportunity to see its breadth of retail solutions in one place, from CCTV and intelligent analytics, communications, digital signage, award-winning facial recognition and handheld devices to lighting, flexible checkout solutions, and automatic out of stock detection. Visitors will also be able to find out more about Panasonic's Gemba Process Innovation.
"Gemba Process Innovation, Gemba meaning the "actual place where business happens" in Japanese, combines Panasonic technologies and integration know-how to help retail customers revolutionise their processes to innovate and improve operational efficiencies," explained Shusuke Aoki, Chief Transformation officer at Panasonic Systems Communications Company Europe. "It combines technology solutions and process innovations to allow retailers to focus on the right thing – the customer."
Sean Taylor, Head of Retail Solutions UK at Panasonic Business, added: "Consumer behaviour is driving a major shift in retailer thinking. Retailers are looking for ways in which technology can be used to extend customer insight, add value and ensure they remain top of mind for consumers."
"Panasonic has an exciting range of technology solutions for retailers to help address these challenges. These include automatic out of stock detection, check out solutions powered by facial and object recognition, and intelligent analytics that can be used for marketing and security purposes. Panasonic has a wealth of experience in both the technologies and integration techniques required to help retailers address these challenges for the 2020's."
Panasonic Press contact:
Lottie Hutchins
lottie@ambergroup.net
+44 (0) 1189 497751
+44 (0) 7951065119

Panasonic Press contact:
Andoni Larrucea
andoni.larrucea@eu.panasonic.com
+49 611235416

About Panasonic
Panasonic Corporation is a worldwide leader in the development of diverse electronics technologies and solutions for customers in the consumer electronics, housing, automotive, and B2B businesses. The company, which celebrated its 100th anniversary in 2018, has expanded globally and now operates 582 subsidiaries and 87 associated companies worldwide, recording consolidated net sales of Euro 62.5 billion for the year ended March 31, 2019. Committed to pursuing new value through innovation across divisional lines, the company uses its technologies to create a better life and a better world for its customers. To learn more about Panasonic: https://www.panasonic.com/global
About Panasonic Business & Industry Solutions 
Panasonic Business & Industry is a Business Unit of Panasonic System Communications Company Europe (PSCEU). Headquartered in Wiesbaden (Germany), Panasonic Business & Industry delivers tailored technology solutions focused on Retail, Logistics and Manufacturing. Designed to increase operational efficiency and enhance customer experience, helping businesses to perform at their best, every day.
For more information please visit: Supply Chain Solutions | Panasonic Connect
Sorry there was an error...
The files you selected could not be downloaded as they do not exist.
You selected items.
Continue to select additional items or download selected items together as a zip file.
You selected 1 item.
Continue to select additional items or download the selected item directly.