PANASONIC VIXELL: THE VACUUM-INSULATED COOLING BOX FOR PHARMACEUTICAL TRANSPORTATION
Scroll down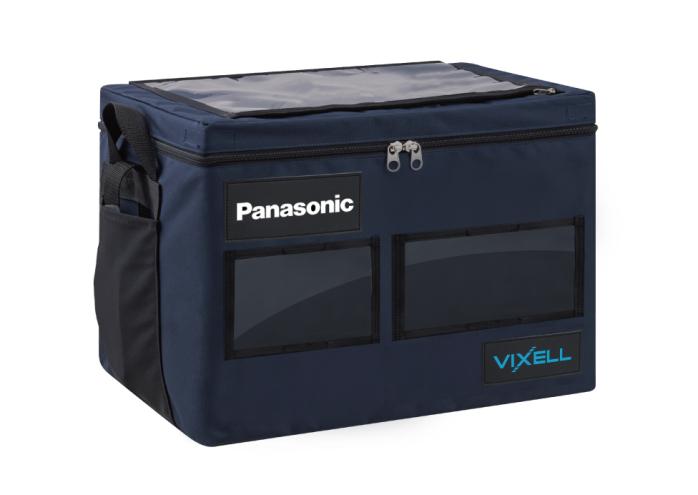 A revolutionary new cold transport solution for pharmaceutical and logistics companies.
Bracknell, UK. 26th October 2021 – Panasonic Connect Europe today introduced VIXELL™, a revolutionary vacuum-insulated box for pharmaceutical transportation that can store items in a -75ºC±15ºC environment for up to 18 days[1] using refrigerants such as dry ice. Ideal for vaccines and other medical supplies, VIXELL uses a patented moulded Vacuum Insulated Case (VIC), which prevents the problems experienced with conventional Vacuum Insulated Panel (VIP) boxes where cool air escapes through gaps.
The VIXELL box contains thermal storage units and the temperature is maintained by filling the inside and outside of these units with refrigerant. By switching the size of the unit and refrigerants used, VIXELL can transport pharmaceuticals at a diverse range of temperature zones, including the below -70ºC zone, below -20ºC zone, and the 2ºC-8ºC zone.
Ideal for the transportation of biopharmaceuticals and drugs and vaccines that require strict temperature control, VIXELL is equipped with a wireless vacuum sensor that uses contactless power supply technology to check the thermal insulation performance of the unit. The location and temperature of the box can also be monitored remotely using an internet connected device.
With its unique shock absorbing structural design, VIXELL is also more resistant to damage than traditional cold transport units, which are prone to brittle damage from drops and vibrations at low temperatures. 
"With the need for fast, efficient and reliable cold transportation of vaccines and drugs at the forefront of people's minds, Panasonic VIXELL is an ideal solution for pharmaceutical cold chain logistics companies," said Edin Osmanovic, at Panasonic Business & Industry Solutions. "The ground-breaking design, reliability, efficiency and ease of use of this solution looks set to take the transportation of important pharmaceutical goods to the next level."
Sorry there was an error...
The files you selected could not be downloaded as they do not exist.
You selected items.
Continue to select additional items or download selected items together as a zip file.
You selected 1 item.
Continue to select additional items or download the selected item directly.