Battery life making your blood boil?
We have all been there. You are in a rush to make a work deadline and you are on a roll. The pressure of the clock counting down has given you that rush of clarity of thought. Now all you need to do is capture that brilliant thinking and hit the send button. But noooooo! The low battery warning has just popped up on the screen like the seven horsemen of the apocalypse arriving on the horizon. You glance up at the battery icon at the top of the screen and see that worryingly thin slither of red energy left. You're not going to make it.
It makes your blood boil, doesn't it? At worst, the device shuts down before you can save and plug in the power and at best you lose your train of thought as you search for the adapter. But you are not alone. 75% of frontline workers report at least one battery problem each month (B2M State of Enterprise Mobility survey 2021). Imagine the frustration and lost productivity that must cause.
And it's not just the poor users. IT support teams also worry about battery life more than most other things. In our research, it consistently shows up as a top three consideration when purchasing a mobile computing device. And when things do go wrong, it can be costly too! Just over 50% of IT support teams confess to just switching device batteries for a new one when they are sent in with problems for investigation.
So, what's the solution? Are we doomed to a life of battery frustration? Thankfully no. Battery technology has moved away from 'dumb' batteries that are non-identifiable components charged by the main unit of the PC to 'smart' batteries. The intelligence in the battery means that it can now take better care of itself by monitoring things like voltage and charging characteristics. The smart battery is also unique and identifiable, so even when a battery is moved from unit to unit you can still manage it as a separate asset.
So, here are our top three tips for getting the most out of your mobile device batteries: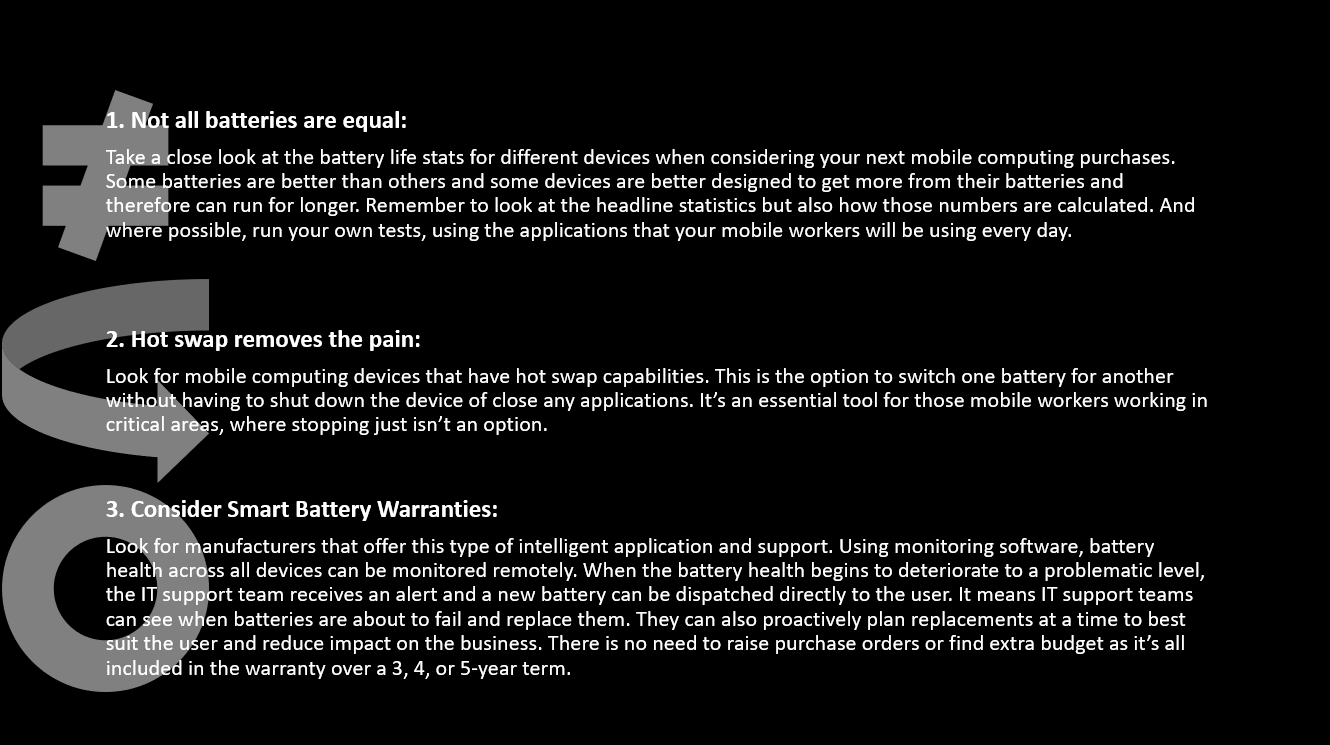 We could all do with a little less stress in our lives, so don't let your battery problems make your blood boil. There is a solution!  
Find out how Smart Battery Warranty can reduce unexpected downtime while reducing costs and being kinder to the environment.
Sorry there was an error...
The files you selected could not be downloaded as they do not exist.
You selected items.
Continue to select additional items or download selected items together as a zip file.
You selected 1 item.
Continue to select additional items or download the selected item directly.