Hands on while remote – The best of both worlds
With less travel and more homeworking, businesses are having to get creative about how they put their products in the hands of potential buyers.
Global events are changing the way we work. The pandemic accelerated the move for many to work more from home and environmental concerns are also encouraging us to travel less. These trends look set to continue with 60% of the European workforce saying they want to continue to work from home and a Bloomberg survey of 45 large companies in Europe, the US and Asia showing that 84% plan to spend less on travel post-pandemic
But as well as allowing us to be more productive, spend more time with family and helping to secure the future of the planet, these changes in work behaviour have also had an impact on the way we conduct business.
For example, with many people travelling less, we are moving to more localised or hybrid events and even the way we sell seems to be changing. Booking a flight or travelling a long way to see a product demonstration, for example, has become more of a commitment. More extensive research via the internet looks set to become more pervasive but it's not always the same as seeing, touching and trying the product in question.
As a result, companies are looking to become more innovative and look at new ways of putting their products in front of potential customers without having to travel.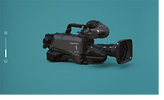 A Digital World
Panasonic has recently launched its AV Digital World, a next-generation 3D digital platform, enabling visitors to discover and explore its solutions in a whole new way. Starting with solutions for Corporate and Education and TV and Broadcast, visitors have access through their PCs to a virtual studio and lecture hall to digitally explore and interact with Panasonic's products and see how they operate together.
This next-generation platform allows visitors to step into a new AV Digital World. They can experience Panasonic's ProAV glass-to-glass solutions and interact with all the latest technologies. Visitors can move around the virtual environment to see Panasonic's camera systems and production solutions. They can then click on an individual product for additional information and a 3D close-up view of the product and its features. Virtual environments for Live Events and Esports will follow. Additional industry environments, products and interactive formats will be added over time.
In addition, later this year, AV Digital World will be complemented by Panasonic's Virtual Demo Rooms. Starting with Panasonic's PTZ Camera range, the virtual demo rooms will enable partners and customers to take control and test Panasonic's range of ProAV solutions remotely. Via their PC and with the support from a technical professional, potential customers will be able to experience the latest Pan Tilt Zoom Cameras (PTZs), network configuration tools and Auto-Tracking Software as well as the ability to test specific functions such as sensitivity, zoom, presets, colour matching and more – all from afar.
It is potentially an exciting first step in a move towards the metaverse for B2B solutions and a practical solution for those travelling less and working remotely in the future.
Sorry there was an error...
The files you selected could not be downloaded as they do not exist.
You selected items.
Continue to select additional items or download selected items together as a zip file.
You selected 1 item.
Continue to select additional items or download the selected item directly.