PTZ Virtual USB Driver
PTZ Virtual USB Driver
PTZ Virtual USB Driver is an application software that runs on Windows. This makes it possible to use a remote camera in a network as a USB camera
Able to use PTZ cameras on the network as USB cameras
Up to 5 cameras can be registered
Automatic camera discovery and network setting
Free Software that converts PTZ camera on your network into Super Web cam 2+ PTZ Virtual USB Driver 
All current Panasonic PTZ software is PC-based only
FREE DOWNLOAD
Get the Latest Version of Virtual USB PTZ Camera Driver
Start utilizing your cameras for teleconferencing, live streaming and web chat via USB with this easy to use driver.
PTZ Virtual USB Driver (AW-JJPTZ02)
The software is a free download for all and its main features are:
Through an application supported by USB cameras, it looks as if USB video and audio devices exist in the network. It is possible to receive video and audio from these devices and use them for recording, etc.
Up to 5 cameras can be registered.
Automatic detection of cameras is possible. Configuring the camera's network settings is also possible.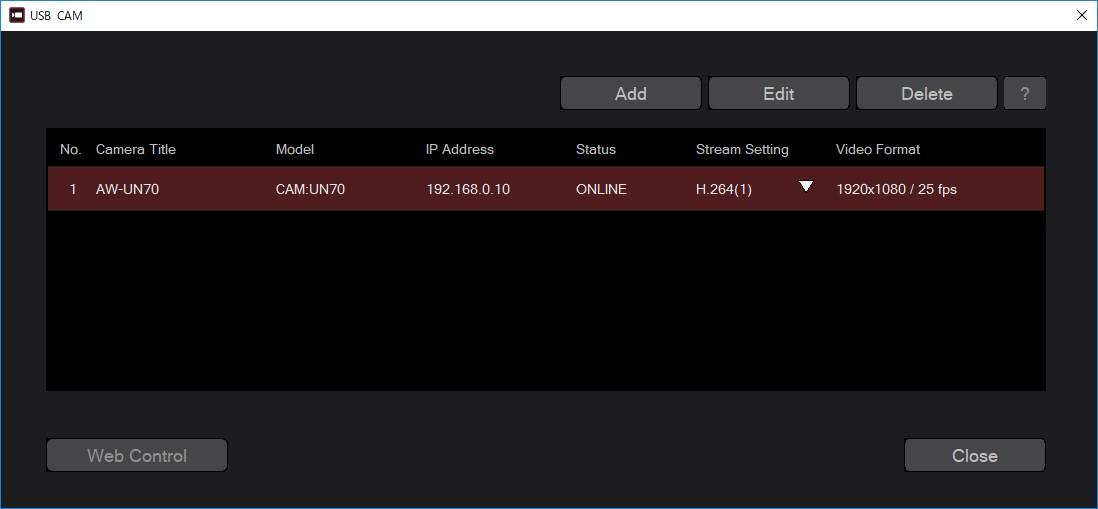 The following camera series are supported:
AW-HE130
AW-HR140
AW-HE40/65
AW-UE70
AW-UN70 series
POVCAM AG-UMR20/AG-UCK20
The above models need to have the below firmware versions running:
        AG-UMR20/AG-UCK20:V1.11 or later
        AW-HE130:V2.23 or later
        AW-HR140:V1.09 or later
        AW-UE70:V1.38 or later
        AW-HE40/70/65:V1.68 or later
Cameras can be easily added with Virtual USB which shows within the Windows device manager. This turns the PTZ's into a USB device like a webcam, which can then be easily used within any Windows application that captures video.
Up to 4 streams can be used at one time with each needed to be configured, resolution and frame rates can also be set (please read operations manual on how to configure each camera).
Once the software is activated, it will boot on start-up with no intervention required – running as a back ground task. This means the software performs an auto connect.