Cloud-based business analytics for customer insight and smarter decision making
Intelligent in-store analytics
Scroll down
The modern physical retail environment is full of fresh challenges.
Competition from e-commerce and changing customer expectations mean that stores need to optimise every layout, every promotion, every operational process and every interaction.
The key to achieving this? Understanding customer behaviour.
Panasonic's Vieureka platform and compatible IoT cameras offer powerful in-store analytics and behavioural insights, helping you to deliver the ultimate customer experience.
A bird's-eye view of customer behaviour
Demographics – age, gender, and more
Time spent in the vicinity
Most popular times for customer visits
Degrees of attraction and dwell time – areas of your store that receive the most footfall, and length of time visited
Routes taken around the shop floor
Monitor specific departments and areas, or the whole store
Use across single or multiple locations
Preserving customer privacy
Vieureka cameras analyse an image internally, and then discard it – leaving only the metadata. No personal information is shared or stored, giving due consideration to a customer's privacy, and fully complying with GDPR standards.
What do shoppers really want? Now you can find out.
Delivering exceptional service means truly understanding your customers. It means recognising what they want, and what they don't. It means being aware of how they shop, how often…and for how long.
And It means adapting your store, and your offering, based on these insights.
Know your customer
Gain a deeper understanding of customer demographics including age and gender. Determine the number of visitors and analyse where and how they spend their time while in your store.
Optimise shop floor design
Vieureka heatmap, people-flow and dwell time analytics help you determine how to optimise space for increased profitability and a superior customer experience.
Maximise revenue
Use heatmapping, gender/age and direction of flow analytics to allocate promotional areas and adjust your product range. Ensuring the relevant promotions catch the eye, and wallet, of the customer.
Enhance customer service
Get quantifiable insight to assist efficient allocation of resources. Ensuring your promotions and staff are in the right place at the right time, whenever your customer needs them.
Protect privacy, health and safety
Protecting the health, safety… and privacy… of those in your store is paramount. Having real-time visibility of activity enables you to ensure there is sufficient room for staff operations, reduce congestion at the checkout and allow free movement around the store. All while remaining GDPR-compliant, as no customer image is captured or stored.
A better view – anywhere
Vieureka provides valuable real-time actionable insight into in-store behaviour that can help essential decision making. It has a cloud-based, intuitive dashboard, and produces flexible reports based on your requirements – view a department or area, the whole store, and single or multiple locations, remotely.
Intelligent analytics using AI cameras
Gain even more shopper insights to boost operational efficiency, improve health and safety and provide a more relevant experience thanks to flexible yet powerful cameras with AI capabilities.
Looking for more?
Whether you're just browsing, or in the market for Electronic Shelf Labels and other in-store transformational technology solutions, our expert team is on hand to help. Simply fill in the form below, and we'll be in touch very shortly.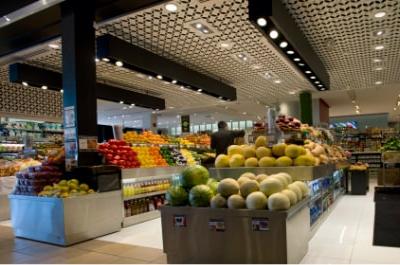 Thank you, we've received your submission, and we'll be in touch soon!
Talking shop
Panasonic Connect Solutions blog

Alongside industry giants and technology experts, we regularly explore key issues facing the retail and supply chain industries today.
Rethinking retail
For every customer. Across every touchpoint.

As well as intelligent analytics, we offer a whole host of industry-specific retail technologies and services. All have been developed to make boosting in-store operational efficiency and creating an unforgettable customer service as easy as possible.
Retail research excellence
Dedicated whitepapers

Digitisation. Data. AI. IoT. Smart stores. You name it, we've got it covered in our series of sector-specific whitepapers. Created in partnership with research and retail industry experts.