Adds intuitive GUI-based operation to the free software PTZ Control Center
Enables management & control of multiple Panasonic 4K/HD PTZ Cameras using a PC
New Multi Camera Preset Control for PTZ cameras

The AW-SF300 is a Visual Preset Software Key that adds intuitive GUI-based operation to the free software PTZ Control Center. This software key enables the management and control of multiple Panasonic 4K/HD PTZ cameras using a PC. This software key is an optional accessory (additional fee applies) for PTZ Control Center, a free to download Windows programme for Panasonic PTZ cameras. The addition of AW-SF300 enables the management and control of PTZ Camera presets through a GUI screen whilst incorporating photos and layout diagrams assigned by the user.

Users can recall presets for multiple PTZ Cameras at once and switch the cameras directed toward a subject simply by clicking on subject icons on the GUI screen. The GUI screen is operated using a mouse and PC monitor, and is designed to provide ease of use suited to various situations through features such as the ability to set interior photos or seating charts of shooting locations as backgrounds, and the use of icons that can be placed anywhere on the screen to indicate subjects and camera positions. With a screen display and simple operation tailored to a range of scenarios, the software provides intuitive operation even for users who do not usually operate video equipment. The AW-SF300 provides high operability in a range of PTZ camera use cases, such as the shooting and recording of local government meetings or business seminars.
GUI screen that enables the subject of multiple PTZ Cameras to be switched with a single click of an icon
GUI screens can be set for each shooting location and Preset Groups with registered subject positions can be managed.
All cameras registered in a group can be directed toward the subject with a single press of the Preset Group icon on the GUI screen.
Camera positions are displayed as icons on the GUI screen. The icons of cameras in the currently selected Preset Group are highlighted, enabling the user to see which cameras are shooting at a glance.
Operation using a PC mouse and GUI screen provides ease of use for users who are unfamiliar with the operation of video equipment.
* EasyIP Setup Tool Plus is included with this product, no separate installation is required.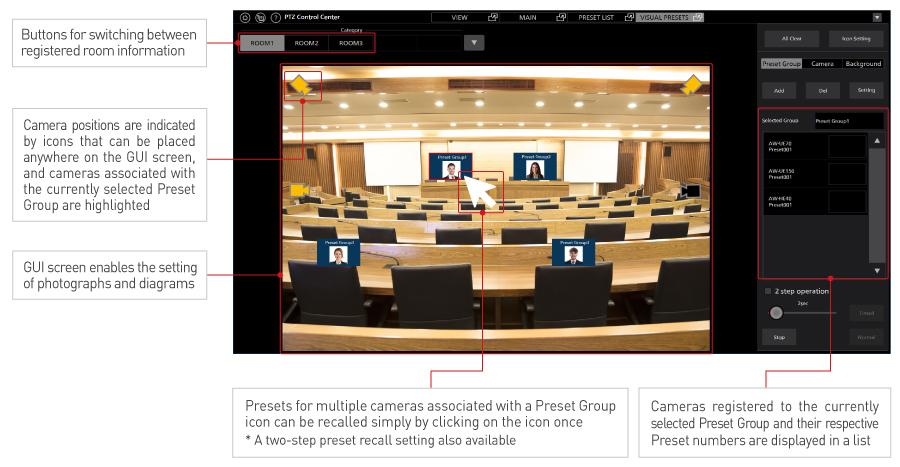 Example application: Conference room
Related resources
Brochures
PTZ Camera System Line-up Brochure [April 2023]