4.4K Sensor Camera with 2/3 type B4 *Output from the AK-UCU600 Camera Control Unit.
UHD 12G-SDI output (x2) and TICO over SDI output (x1).*
Supports high-speed 2x, 3x or 4x output in HD mode*.
Future SMPTE 2110 MoIP Upgrade Path
Supports HDR(HLG) and ITU-R BT.2020.
The AK-UC4000 studio camera is yet another Panasonic innovation in broadcast technology. Users can operate the camera in both 4K and HD modes. In HD mode the AK-UC4000 produces HD images with high sensitivity and low noise. In addition to the functions appreciated in previous studio camera series such as DRS and CineGamma, the AK-UC4000 adds new features such as focus assist, flash band compensation, and skew reduction, which is realized through high-speed scan from the MOS sensor. There are additional functions to improve shooting experience including enhanced shock less gain (-6 dB to 36 dB), a user gamma function, black gamma correction according to the pedestal setting, multi-step DNR and easy matrix adjustment. AK-UC4000 Series achieves excellent image quality and operability.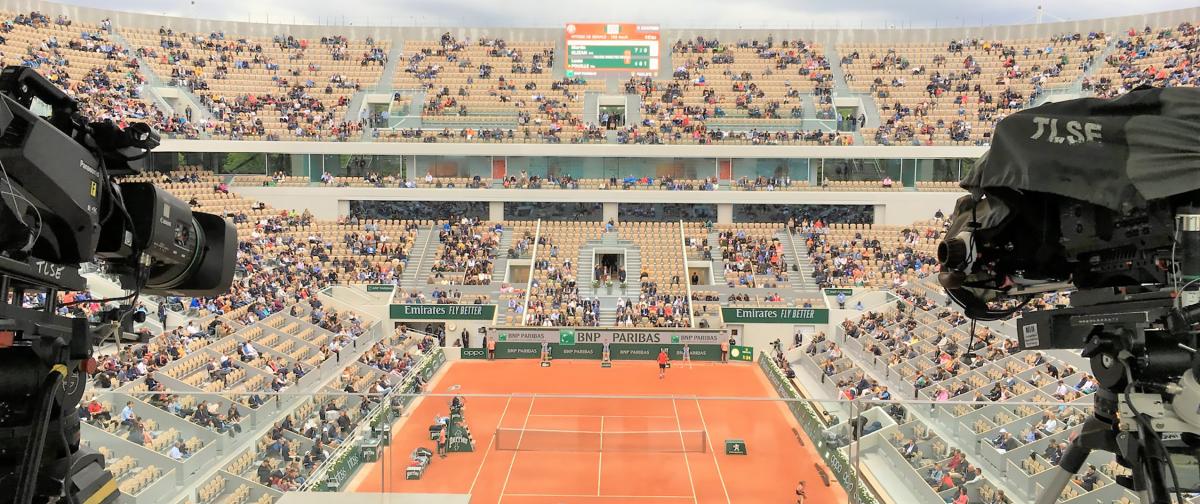 When paired with the AK-UCU600 Camera Control Unit, the UC4000 is capable of 4K image production and uncompressed long-distance transmission. The AK-HRP1000 and HRP1005 Remote Operation Panels are equipped with a color LCD to provide visibility of the display for smooth control. The camera and camera control unit can be connected for approximately 2,000-meter long-distance transmission of video signals when power is supplied from the camera control unit. The remote operation panel and the camera can be connected using a dedicated cable.
The AK-HVF100 230mm LCD color view finder is equipped with a large display and diverse functions. The focus assist functions include Focus Bar (indicates focus level), Focus-in-Red (uses color to indicate areas in focus), Expand (magnifies central portion), and Square (shows focus status of screen as a whole).
Overall, the AK-UC4000 and AW-UCU600 system offers superior cost performance with respect to both operability and ease of use.
GAME, SET AND MATCH: PANASONIC SUPPORTS THE ROLAND-GARROS TOURNAMENT WITH AK-UC4000 STUDIO CAMERAS
AK-UCU600 - CAMERA CONTROL UNIT (CCU)
The CCU supports not only UHD and HD simultaneous output, but also enables high-speed output*1 up to 240p in HD mode to be performed simultaneously with standard (1x) output, while still having a compact size.
Contains a dual UHD 12G-SDI system, and supports 3G-SDI quad link with quadrant or two-sample interleave.
Optical fiber transmission of uncompressed video signals over a distance of approx. 2,000 m between camera and CCU*2.
The compact, lightweight unit measures 2U in height and is rack-mountable.
Supports IP streaming (100 Base-T).
SD memory card can be used for saving user files and updating firmware versions.
Dual uncompressed12G-SDI output.
Supports TICO*3 over SDI (4K over 3G-SDI) output (4K signal
can be transferred by a conventional 3G-SDI cable).
Supports 1080p/i and 720p. In addition to standard output, high-speed output*1 at 2x, 3x or 4x can be selected according to the specifications of the server.
Supports HDR/SDR simultaneous output and HDR BT.2020/BT.709 simultaneous output.
12G-SDI output and TICO*3 over SDI (4K over 3G-SDI) output are compatible with the AK-UC3000*4.
READY FOR MOIP?
Expand the capability of your studio camera with the AK-NP600G
MoIP Option Board for AK-UCU600
Enables MoIP connectivity to AK-UC3000/AK-UC4000 studio
camera systems compliant with SMPTE2110
*1: When in HD Hi-Speed mode. Requires a firmware upgrade scheduled for release in the fall of 2018.
*2: When power is supplied from CCU.
*3: A codec developed by intoPIX. Stands for "Tiny Codec"
*4: Requires a firmware upgrade scheduled for release in the fall of 2018.
As part of a program run by the Joint Taskforce on Networked Media (JT-NM), Panasonic's IP/12G/3G Interface Kit AK-NP600G has received JT-NM tested badge for the international media transmission standard SMPTE ST 2110 and the control/management standards AMWA NMOS IS-04,05, both of which are shown in the EBU Pyramid's technological requirements.
AK-HRP1000/AK-HRP1005 REMOTE OPERATION PANEL
These two types of operation panel are both capable of supporting IP control.
Specifications:
Available two types of Remote Operation Panel as 1/4-type rack size AK-HRP1000 and 1/5-type rack size
AK-HRP1005
Easy recognition and visible color LCD Panel allows GUI operation
Variable Master Gain at assignable User Knob
Assignable knob in addition to Color Temperature and Master Flare
Rotary encoder knobs for smooth and absolute/relative adjustments
MSU data transfer function
PoE (Power over Ethernet) supported
Can be used for mixed studio and remote control of Panasonic convertible cameras
and PTZ cameras via IP connection (up to 99 units)
Equipped with a joystick control lever allows Iris/Pedestal operation
Scene File function provided
Equipped with an SD Memory Card slot for saving user files and updating firmware version
AK-HVF100 LCD COLOUR VIEWFINDER
Light weight and high resolution (9-type IPS LCD 1920*1080p,
1,100 TV lines, brightness 400cd/m², contrast 700:1)
viewfinder with built-in mechanical lift assist functions
Specifications:
Focus assist functions
External HD-SDI and 12V 4-pin XLR input
Four assignable function switches
Contrast, brightness and peaking are adjustable
AK-HBU500 BUILD-UP UNIT
Large and ENG/EFP lens adaptor
Camera can be mounted fast and smoothly
One cable solution
Power Output: DC12V/7.5A and DC12V/1.5A
3 User buttons
3 Cursor memories/button
AK-MSU1000 MASTER SETUP UNIT
Large scale 7-type color LCD Touch Panel
Master control of precise camera settings for the entire camera system
Serial & IP control (6x serial and up to 99 cameras by IP)
Camera/CCU Information Output (1080i)
HD SDI Input (Monitoring, 1080i)
EXTERNAL UHD/HD WIRELESS SOLUTIONS
4K Wireless RF solution incorporates their award wining Camera Control System and DTC's 4K transmitter, all in one compact, easy to manage unit the AEON-CC
| | |
| --- | --- |
| Power Supply | DC 12 V (when using an external power supply) AC 240 V, 50 Hz/60 Hz (when connecting to an AK-UCU600PJ/AK-UCU600EJ/AK-UCU600PSJ/AK-UCU600ESJ) |
| Power Consumption | 119 W (maximum for the camera only, when connecting to an external 12 V) 360 W (when connecting to an AKUCU600PJ/ AK-UCU600EJ/AK-UCU600PSJ/AK-UCU600ESJ) |
| Operating Temperature | -10 °C to 45 °C (14°F to 113°F) (Preheating required under a temperature 0 °C (32 °F) or below) |
| Storage Temperature | -20 °C to 60 °C (-4°F to 140°F) |
| Operating Humidity | 85% or less (relative humidity) |
| Weight | Approx. 4.5 kg (9.90 lb) (body only) |
| Dimensions (W x H x D) | Body only 151 mm x 267 mm x 371.5 mm (5-31/32 inches x 10-17/32 inches x 14-21/32 inches) (excluding protrusions) |
| Pickup Device | 11.14 million pixels, MOS x 1 |
Viewfinder
AK-HVF100
Light weight and high resolution (9-type IPS LCD 1920*1080, 1,100 TV lines) viewfinder with built-in mechanical lift versatile assist functions
Viewfinder
AJ-CVF25GJ
The AJ-CVF25GJ color viewfinder is newly developed 8.76 cm (3.45 inches) color LCD with approximately 2,760,000-dot resolution and 16:9 aspect ratio, which enables to adjust focus easily. In addition to a normal viewfinder type of usage, the AJ-CVF25GJ serves as an LCD monitor to shoot when opening its eyepiece. The AJ-CVF25GJ can also be opened sideway and used as side panel LCD monitor. The AJ-CVF25GJ is almost the same weight and size of the conventional HD viewfinder and supports Panasonic broadcasting and professional camera recorders and studio handy cameras
Remote Unit / Controller
AK-HRP1000
1/4-type rack size remote operation panel which supports PoE+ and IP control
Remote Unit / Controller
AK-MSU1000
Master Setup Unit (MSU) - Maximum of 20 CCU can be connected and controlled from an AK-MSU100 Plus Versatile Assist Functions Transmission Camera System to Be Configured at Low Cost
Remote Unit / Controller
AK-UCU600
With the AK-UCU600 Camera Control Unit (CCU), uncompressed longdistance transmission of 4K/HD video signals via optical fiber is supported. The AK-HRP1000GJ/1005GJ Remote Operation Panels (ROP) are equipped with a color LCD display that provides excellent visibility and functions for quick response. This system achieves high-quality video and excellent operability. In cases where power is supplied by the CCU, it is possible to transmit at a long distance of up to approx. 2,000 m between the camera and the CCU. The distance can be extended up to 10,000 m by providing a local power supply at the camera head and using general-purpose single mode optical fiber. Between the CCU and the ROP, in addition to a dedicated serial line, IP connection via LAN cable is also supported.
Microphones & Holders
AJ-MC700P
Mount Adaptor
AK-HBU500
Build-up Unit - Supports Large and ENG/EFP lens adaptor
Mount Adaptor
SHAN-TM700
Quick Release Tripod Adaptor Plate
Cables
AJ-C10050G
RC10 50m extension cable - (50 meters / 164 feet)
Cables
AW-PS551
This AC adaptor is designed to be used with Multi-Purpose Cameras, and their peripherals. [For AW-RP120G, AK-HRP200G, AW-HS50]
Studio Camera Accessories
AJ-CVF70GJ
Full HD OLED Color Viewfinder
Studio Camera Accessories
AK-HRP1010
The AK-HRP1010GJ is supporting studio camera systems, remote camera and Varicam series in the future.