Optical image stabiliser
Dynamic Range Stretch
Leica Dicomar lens
1/4.1-type 3.05-megapixel, progressive 3MOS sensors
12x Leica Dicomar zoom lens with Optical Image Stabilizer (OIS)
Professional-quality PH mode and reliable SD memory card recording
Smooth, easy operation with a manual focus ring and touch panel
Outstanding mobility with a small body that weights just 0.98 kg
Wide-ranging functions include a detachable XLR adapter (option), waveform monitor, and camera remote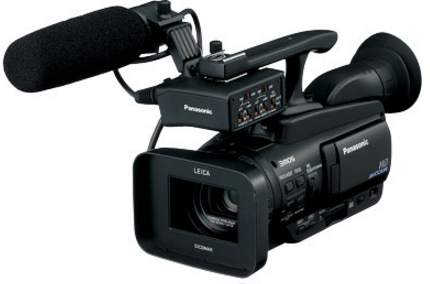 AVCHD Format Recording: Superior Quality, Efficiency and Reliability and Exclusive PH Mode The AG-HMC41 features the image-enhancing PH mode that Panasonic developed exclusively for AVCCAM camcorders. It delivers a maximum AVCHD bit rate of 24 Mbps (average: 21 Mbps).
Designed for professional image production, this mode lets you record 1080/25p and 720 progressive images in addition to 1080/50i from the AG-HMC41's 1920 x 1080 full-raster HD images. Large-capacity SDHC Memory Card Unlike with videotape, there's no need for cueing with the SDHC memory card because recording automatically begins in a blank section of memory.
Nor do you have to worry about accidentally recording over important footage. You can delete unwanted clips instantly right on the spot to preserve memory capacity. Editing after shooting is smooth and easy, with no need for digitising. The tiny SDHC Memory Card is durable, too. Its operating range is from -25°C to +85°C, so you can stop worrying about harsh temperatures or condensation and just concentrate on your shooting. And of course, you never have to worry about problems with dropouts or clogged heads.
Leica Dicomar Lens Featuring 13 elements in 10 groups, the newly developed Leica Dicomar lens is ideal for full-HD recording. The new lens system uses low-dispersion glass and aspherical lenses to reduce colour aberration and boost resolution. Use of a special multi-coating process dramatically reduces flare and ghosts. The result: sharp, crisp, beautifully rendered pictures with vivid colours, delicate nuances, and exceptional shading.
This advanced lens also lets you capture 40.8mm wide-angle shots (35mm lens equivalent) - unusual for such a compact unit. Up to 120x Zoom Power Even at the 490mm zoom setting (35mm lens equivalent), this advanced 12x optical zoom lens is free of image degradation.
And the AG-HMC41 is also equipped with a digital zoom that instantly magnifies the image by any of three fixed values. 2x, 5x or 10x. Use it together with the 12x optical zoom lens, and you get super magnification equivalent to a 120x zoom, without the drop in light intensity that happens when using a lens extender.
Highly Nuanced Image Expression The progressive 3MOS image sensors record full-HD images with a total, 3.05-megapixel (approx.) resolution [effective motion-image resolution of 2.51 megapixels (approx.)]. This produces full-raster HD images with high resolution and superb image quality. Because each of the three separate image sensors receives one of the three primary colours of light (red, green and blue), they render more precise images and more faithful colours than the single light-receiving 1MOS sensor.
Please click here for a list of operation manuals to download.
| | |
| --- | --- |
| Power Supply | DC 7.2 V (when the battery is used)|DC 7.3 V (when the AC adaptor is used) |
| Power Consumption | 7.8 W (max. when the AG-MYA300G XLR microphone adaptor is connected)|5.8 W (in standalone condition) |
| Operating Temperature | 0 ¡C to 40 ¡C (32 ¡F to 104 ¡F) |
| Operating Humidity | 10 % to 80 % (No condensation) |
| Weight | Approx. 0.99 kg (camcorder only)|Approx. 1.4 kg (including SD Memory Cards, supplied battery, microphone and XLR adapter) |
| Dimensions (W x H x D) | 136 mm x 135 mm x 304 mm excluding the projection part |
| Pickup Devices | 3MOS (1/4.1-inch progressive modes supported) |
| Picture Elements | Total: Approx. 3.05 megapixels x 3|Effective (video): Approx. 2.51 megapixels x 3 (16:9)|Effective (still image): Approx. 2.32 megapixels x 3 (4:3),|Approx. 2.65 megapixels x 3 (3:2), Approx. 2.51 megapixels x 3 (16:9) |