Media and Entertainment
Un-limit your audience's expectations.
As media moves beyond simply informing and entertaining, towards immersive, in-person experiences, partner with the experts helping to define its course.
Scroll down
A smarter partnership.
As the channels of communication multiply, as the eSports universe expands, drawing millions of followers, the media and entertainment industry is an exciting place to be. But the equipment and software you need to stay ahead keeps evolving. That's why you need a partner capable of maintaining the balance between constantly innovating, and future-proofing the equipment – and building it robustly enough to last for years to come.
Connected solutions for Media & Entertainment.
Panasonic Connect provides everything you need, not only to capture every minute detail of audio and visual, but to present it in a way that captures the imagination of your audience.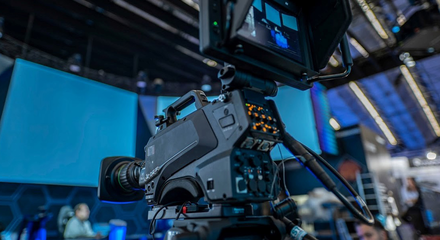 Broadcast & ProAV
From live camera systems to remote camera set-ups. From a single robotic camera to an entire IT/IP Video Process Platform. 
Professional Displays
Digital signage, touch screens, video walls and projection mapping. There's more to Panasonic Connect than meets the eye. 

Projectors
Projectors that display every detail, even in bright daylight. Panasonic has given event producers the freedom to create spectacular live shows and 3D mapping events. 
Why work with us.
From shooting content to showing it, image quality and definition just keeps getting better. But that means not only having the latest kit, but choosing equipment that's built to last. Panasonic Connect delivers on both fronts. We're known throughout the industry for product durability, but we also give you flexibility too. Through our extensive line up, we can help you scale up or down according to your production needs. Whatever your size of event, with the broadest range of projector lenses, we can help you set new standards in lighting design. Consult with us, and we'll share our insights, know-how and experience on an unrivalled line up of professional AV equipment and visual systems.
Optimisation for Media & Entertainment.
Panasonic Connect are more than just a player in the growing, immersive media and entertainment revolution, we're helping to define how it plays out/the way forward – and in the process, creating limitless opportunities for you. Our ground-breaking IT/IP video processing platform, Kairos, is leading the way in the future of eSports. Our large venue projectors are outperforming even LED displays. All giving you the freedom to tell your stories the way you want to – and always in superb quality.  
Helping you hit your sustainability targets.
The world wants to be entertained, but not at any cost. Our mission and philosophy focus on moving society forward – but in a way that provides a sustainable future. That's why, for example, our projectors are designed to consume less energy – and developed for low- or no-maintenance operation, reducing the need to replace parts such as bulbs, creating less waste. Every small difference we can make is part of Panasonic's GREEN IMPACT initiative, to reduce not only our own CO2 emissions, but those of our customers and society as a whole. When you partner with Panasonic Connect, you partner for tomorrow.
Insights you can use – right now.
If you want our views and opinions on how we see the future of media and entertainment, you needn't wait to meet us. Here's where you'll find our blogs, whitepapers and opinion pieces on the subject. They'll show you we're on the same page.

Where to experience us, virtually.
Find out, firsthand, how our technology can help you. Take a tour of the unique Virtual Panasonic Business Solution Centre – and immerse yourself in some of our latest ideas and partner collaborations. 

Pay a virtual visit to our production studio.
Explore everything you need to create your own state-of-the-art, in-house production studio. We'll walk you through the ways to avoid the pitfalls and save money, long-term. 
Stay future focused with Panasonic Connect.
One way to stay ahead of competitors; keep up to speed with the latest innovations from Panasonic Connect. Here's where you can subscribe to our newsletter.