PT-DW17K2
Discontinued
3DLP - 17000 lumens - WXGA - 4Lamps - Exchangeable lens - 3D /HD-SDI/ Portrait Mode/ Digital Link/ 10000:1
3-chip DLP, 17000 lumens, WXGA
Compact design, light weight and low noise level (as low as 46db)
Quad-lamp redundancy for failsafe operation
Fully featured for single or multi-mapping installations
Compact 17.000lm*1Projector Delivers Stunning Picture Quality
17.000lm*1 of Brightness with a contrast ratio of 10.000:1 from an extraordinarily compact body
Providing a variety of advanced features, such as DIGITAL LINK connectivity, portrait mode capabilityand multi-screen projection
*1 17,000 lm for the PT-DW17K2, and 16,000 lm for the PT-DZ16K2.
Benefits of PT-DW17K2:
1. Ultra High and Detailed Images
17,000 lm of brightness (PT-DW17K2: 17,000 lm, PT-DZ16K2: 16,000 lm) for large venues.
Next-generation Detail Clarity Processor delivers crisp and detailed image quality.
High 10,000:1*1 contrast ratio with Dynamic Iris.
System Daylight View 3 for enhanced color performance in bright rooms and mapping applications.
Waveform Monitor function for easy adjustment of black/white level.
DICOM Simulation mode for medical presentations and training*2.
2. High Reliability and Low TCO
Extended lamp replacement cycle of 3,000 hours*3.
Liquid cooling with highly efficient quad-lamp system reduces operational noise.
Stable operation in ambient temperatures of up to 45 ° C*4.
Quad-lamp system allows 24/7 operation in Lamp Relay mode.
Easy lamp replacement from rear side.
Eco filter requires no maintenance for 12,000 hours*5.
Durable, precision-tuned optical engine.
High efficiency lamps reduce power consumption.
3. Versatile Installation Flexibility
Flexible installation with 360 ° vertical cabinet rotation.
Multi-Screen Support System seamlessly joins screens with Edge blending, Color matching, and Digital image enlarging.
Multi-Unit Brightness Control.
Compatible with Panasonic Multi Monitoring & Control Software and Early Warning Software.
Single-cable DIGITAL LINK connection transmits video and control signals for up to 100 m (328 ft).
Portrait mode capability (PT-DZ21K2/DS20K2/DW17K2. Mounting the optional lamp units for portrait mode is required)*6.
Abundant terminals including 3G-SDI inputs (PT-DZ21K2/DS20K2 features inputs x 2 and PT-DZ16K2 has input x 1).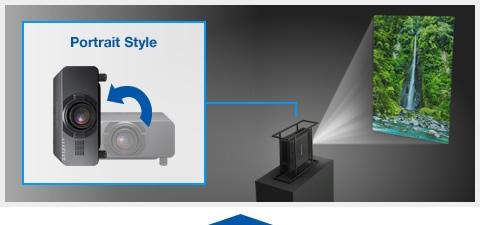 *1 Full on/off, with Dynamic Iris set to "3", *2 This product is not a medical instrument. Do not use for actual medical diagnosis, *3 Usage environment affects lamp replacement cycle, *4 Operating temperature range is 0-40 °C (32-104 °F) when projector is used in Portrait mode or High Altitude mode for altitudes 1,400-2,700 m (4,593-8,858 ft).
Operating temperature range is 0-35 °C (32-95 °F) when projector used in Portrait mode in High Altitude mode, *5 Usage environment affects filter replacement cycle, *6 Installation is possible only with the terminal side facing downward. Horizontal rotation and vertical rotation are both limited to 15 °, Additionally, lamp life is reduced to 700 hours depending on usage environment.
| | |
| --- | --- |
| Brightness | 17,000 lumens (four lamp) |
| Resolution | 1,366 x 768 pixels (Input signals that exceed this resolution converted to 1,366 x 768 pixels.) |
| Lamp | 432 W UHM lamps (x 4) (four lamp system) |
| Power Supply | 200 - 240 V AC, 12 A , 50/60 Hz ( 3-wire single-phase) |
| Power Consumption | 2,060 W (2,100 VA) (0.3 W with STANDBY MODE set to ECO. 9 W with STANDBY MODE set to NORMAL.), max. 7,031 BTU ( without light o utput: 6,758 BTU ) |
| DLP™ Chip | Panel Size | 21.6 mm (0.85 inches) diagonal (16:9 aspect ratio) |
| DLP™ Chip | Display Method | DLP™ chip x 3 ( R, G, B), DLP™ projection system |
| DLP™ Chip | Pixels | 1,049,088 (1,366 x 768) x 3, total of 3,147,264 pixels |
Lenses for 3-Chip DLP < 35.000 lumens
ET-D3LEF70
A wide 91.5° viewing angle achieves maximum screen coverage with a single projector. 
Digital Interface Box
ET-YFB100G
By combining the ET-YFB100G with a DIGITAL LINK-ready device, video, audio and control signals can be transmitted over a single cable.
DIGITAL LINK Switcher
ET-YFB200G
2 x DIGITAL LINK (based on HDBaseT™ technology) terminals output uncompressed HD digital video, audio and command signals to two projectors/displays.