Intel, Panasonic, NETGEAR, Apantac® and other AV industry leaders create a virtual Industry Forum to deliver Universal VoIP, Signage and Bring Your Own Device
Bracknell, UK. 8th September 2022 – Panasonic today announced a new joint industry forum that brings together technology leaders for the first time to help make Universal AVoIP a reality. Intel, NETGEAR and Apantac®, as well as other AV leaders, will join Panasonic for the Making AVoIP a Reality online virtual event on 14th September 2022. The event will discuss plans for an ecosystem built around Intel® Smart Display Module to deliver Universal VoIP, Signage and Bring Your Own Device.
"The AV industry unanimously agrees on the benefits of AVoIP, but a lack of standards and product development has stood in the way of the promise of simplicity, flexibility, scalability and the savings offered by Universal AVoIP," explained Hartmut Kulessa, European Marketing Manager for Panasonic Visual Solutions. "The adoption of Intel® Smart Display Module (Intel® SDM) at the heart of the AV industry will quickly break down these barriers. It will enable modules to be easily developed for simple AV configuration – delivering a Universal AVoIP opportunity as well as a large variety of applications enabled with Intel® SDM such as Digital Signage, Video Walls, Interactive Flat Panels or BYOD in various industries like Broadcasting, Corporate Collaboration and Retail."
The event will include an Intel keynote on the industry vision for Intel® SDM in AV and its ability to deliver Universal AVoIP. There will also be an Industry Panel discussing the blueprint for Universal AVoIP and the role they will play in making it happen. Other breakout sessions will include: Success stories, how to transition from AV to IT/IP, advantages of SDM for Signage and how to bring flexibility to your Bring Your Own Device (BYOD) solution.
Technology leaders participating in the forum include: Panasonic Connect, Intel, NETGEAR, Apantac®, Megatechnik, FRAMR, SpinetiX and Wolfvision. The event will be ideal for technicians, project managers and product marketing managers from Distributors, Channel Partners, Independent Software Vendors (ISV) and System Integrators (SI).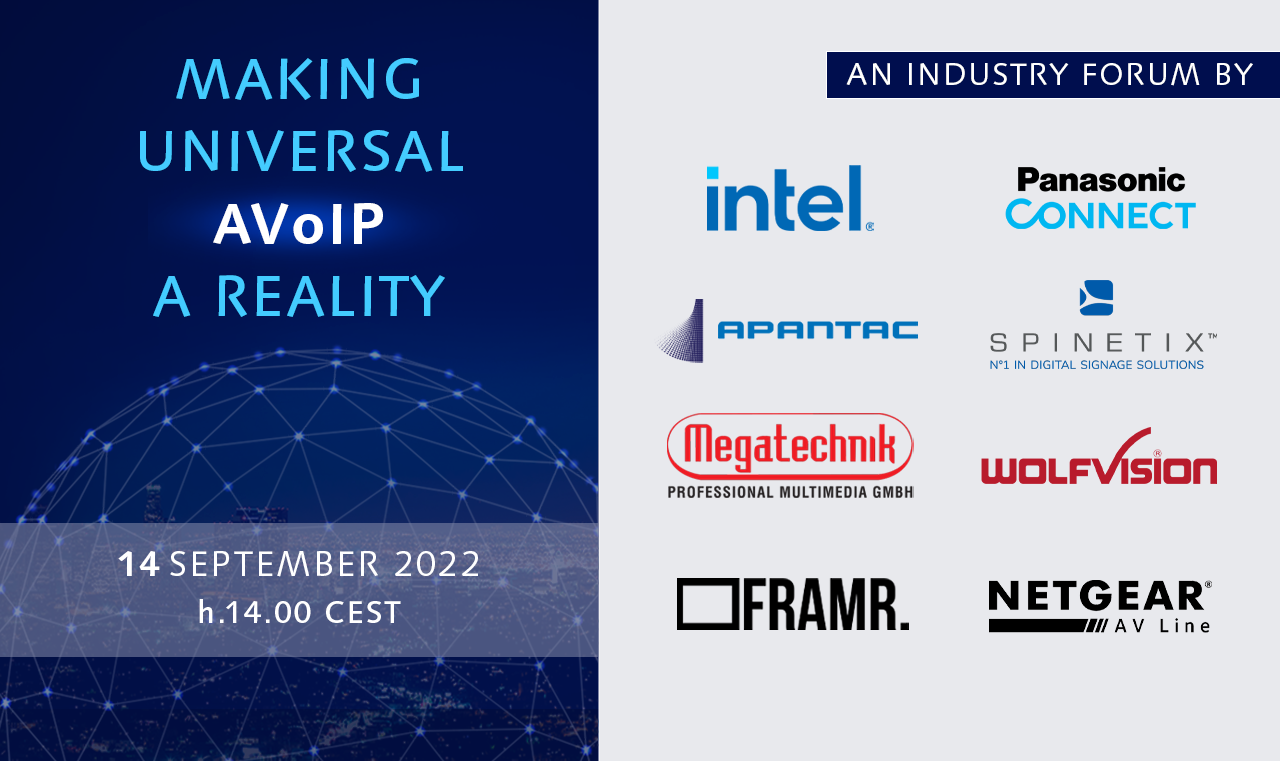 Sorry there was an error...
The files you selected could not be downloaded as they do not exist.
You selected items.
Continue to select additional items or download selected items together as a zip file.
You selected 1 item.
Continue to select additional items or download the selected item directly.