Live Streaming Production Center
AV-HLC100
AV production unit that enables easy creation of AV in situations where there are a limited number of operators available, such as university sports, live streaming, and conference video production
Scroll down
1ME Switcher, PTZ Camera Controller & Audio Mixer - enable one person to operate everything from PTZ camera shooting to streaming transmission
Output format support includes 1080/59,94p and 50p; cross conversion (between 1.080 and 720) function also available
Create your own great multimedia content for live events and video streaming
Supported network protocol: NDITM& RTMP (direct transmission to live streaming services such as YouTube Live)
3D joystick with pan, tilt and zoom, enables single-handed operation
Combining 1ME switcher, PTZ camera controller, and audio mixer functions in a single device, the AV-HLC100 makes it possible for one person to operate everything from PTZ camera shooting to streaming transmission.
AV-HLC100 Live Production Center Streaming Switcher
This is Your Show.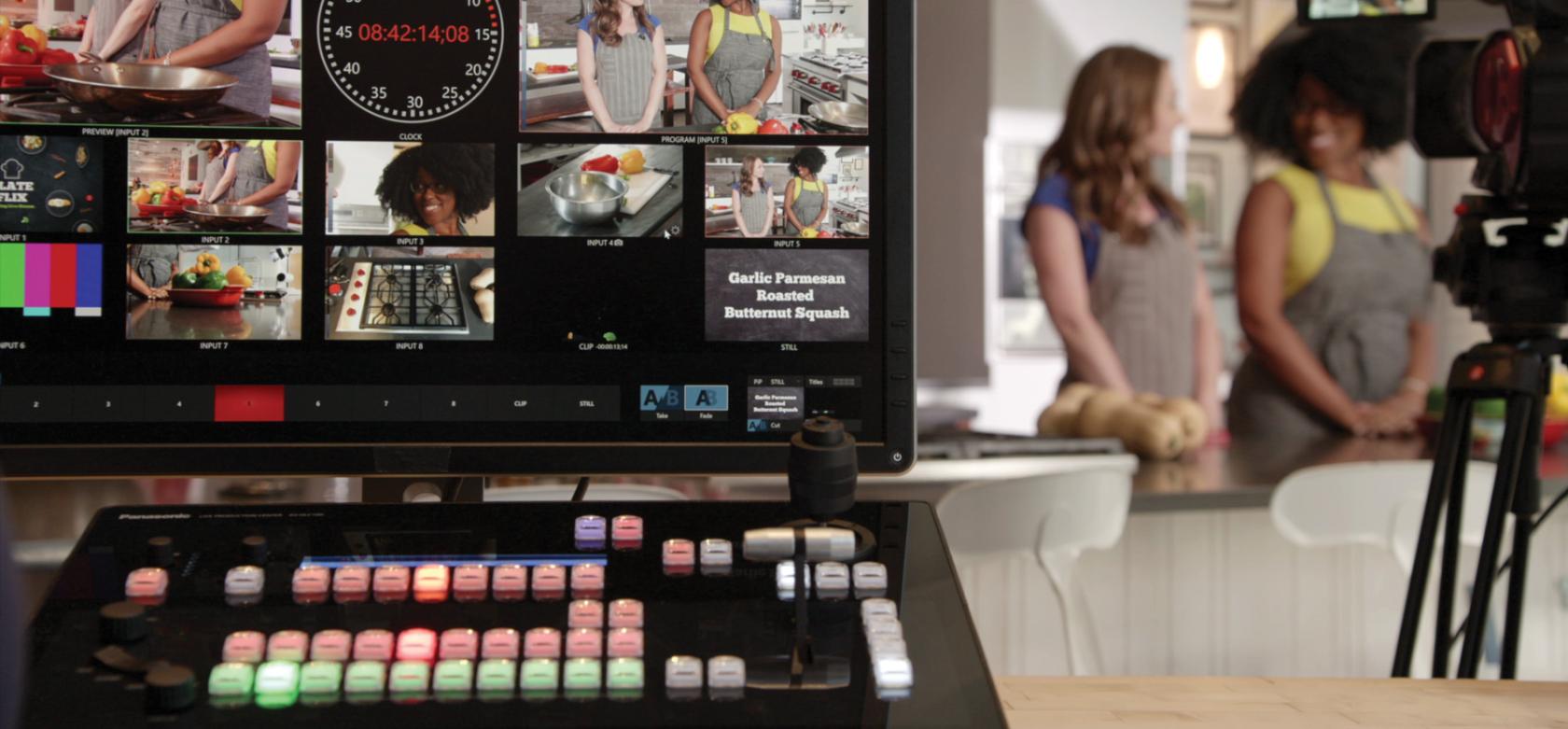 Unleash your creativity with the AV-HLC100 Live Production Center. Professionally capturing, producing and streaming live content has been made easy for everyone! The AV-HLC100 Live Production Center is an AV production unit that enables you to easily create multimedia in situations where there are a limited number of operators available, such as university sports, live streaming shows, and conference video production. Combining a 1ME switcher with a PTZ camera controller and adding audio mixer functions to a single device, the AV-HLC100 makes it possible for one person to operate everything from a single PTZ camera to an entire multi-cam streaming transmission. For PTZ camera operation, the connection and settings can be easily done using the Easy IP connection function, and pan, tilt, zoom, and focus operations can be performed with one hand using the large joystick.
Live Streaming Made Easy
Stream to a variety of sources, including YouTube, Facebook Live, Twitch, ChurchStreaming.tv, LiveStream, Periscope or a custom RTMP destination without the need for an external encoder. The AV-HLC100 supports RTMP connections, enabling PGM output to be directly uploaded to livestreaming services, while also allowing for recording during the stream. Streaming/recording can be started and stopped with just the touch of a button.
Live Production Center

The AV-HLC100 combines a live switcher, remote camera controller and audio mixer in one unit, making it truly an all-in-one switcher. Live audio production for small live musical performances, lectures and presentations can now be done easily with just a single operator, instead of the multiple operators that are usually required. It is also compliant with NDI® and NDI®|HX standards, enabling connection and control of the remote camera to be performed through the same LAN cable with power provided (via a PoE+ hub) for smooth remote shooting.
PTZ Controller / 3D Joystick
TELE / WIDE zoom can be done with the seesaw switch in the bottom left section of the unit. Detailed camera IRIS and FOCUS adjustment can be performed by individual dials, and position control such as PTZ Camera pan/tilt and on-screen PiP/Title location can be adjusted via the 3D joystick in the top right section of the unit.
Audio Mixer
The AV-HLC100 supports up to 8 total audio input sources via embedded digital audio, analog audio, and microphone audio inputs. You can select these 8 sources from a selection of 8 x IP inputs, 4 x embedded audio sources, 2 x line input sources and 1 x microphone input source, and assign them to the mixer. These audio sources can be mixed and output to analog audio outputs, headphone output and embedded with video outputs. The switcher has a volume knob that can be used to control the audio level, which can be monitored via LED lights on the surface of the unit. Additionally, more intricate audio level adjustments for all sources can be made via the on-screen GUI.
Titler / Keyer / PiP / Media Player
The AV-HLC100 features a wide range of video effects available for quick, professional live productions. With Picture in Picture (PiP), you can overlay another source and resize/reposition this PiP window wherever you want it on the screen. You can also choose from a vast range of over 190 transition patterns, including 3D-DVE to easily add effects to your show. Adding titles is also super simple, with a library of design templates where text attributes such as font and color can be edited and placed on-screen. You can also queue up to 8 predesigned titles as presets for a smooth workflow during livestreaming.
Hybrid Switcher: Baseband SDI / HDMI & NDI®
The AV-HLC100 supports a wide range of video formats including 3G-SDI video in 1080/59.94p and 1080/50p, and enables cross-conversion between 1080p/1080i and 720p. SDI x 4 or SDI x 3 / HDMI x 1 can be selected, and it also has 8ch of IP inputs, so that a system can be configured to match the production environment. It is also compliant with NDI® and NDI®|HX, which enables high-resolution videos to be encoded and transferred in real time. This also means that up to 8 of our Professional PTZ Integrated robotic cameras* can be connected with a single LAN cable, without external IP decoders, and automatically link to the AV-HLC100. This enables video and audio transfer, PTZ camera control, camera power and tally lights all via a single cable, allowing for quick set-up and simplified cable management. Supported video outputs include HDMI x 1, 3G-SDI x 2, RTMP streaming x 1 & NDI® x 1.
SkypeTX Remote Presenter / Interview
The AV-HLC100 can use Skype TX as one of the sources, which enables broadcast-quality video communication. Footage sent by Skype-based video channels from remote locations can be directly incorporated during live shows and can be used for interviews or on-location broadcasts, providing an engaging way to bring in guests from all over the world into your live events, lectures, webinars, and presentations.
Easy System Configuration
Output format support includes 1080/59.94p and 50p, and there is also a cross conversion (between 1080 and 720) function. Flexible transmission can be achieved since it is possible to mix embedded, line-input, and mic-input audio and add it to the video. In addition, supported network protocol the NDI®, RTSP (direct input of the IP video from Panasonic PTZ cameras) and the RTMP (direct transmission to live streaming services such as YouTube Live). High-production value can be accomplished even in situations with a limited number of operators and with limited staff training.
NDI®: Network Device Interface, a technology of NewTek, Inc.
*N Series PTZ Models. Select AW-Series camera models can be upgraded to support NDI®|HX.
| | |
| --- | --- |
| Power Supply | DC 19 V (AC adaptor provided) |
| Power Consumption | 110 W |
| Ambient Operating Temperature | 0 °C to 40 °C (32°F to 104°F) |
| Humidity | 20 % to 80 % (no condensation) |
| Mass | Approx. 6.05 kg (13.34 lbs) |
| Dimensions (W x H x D) | 427 mm x 93 mm x 278 mm (16.8 inches x 3.67 inches x 10.96 inches) (excluding protrusions) |
| Number of ME | 1ME |
| Number of switcher channel | 10 ・ 8 External (selected from among 3G-SDI x 4, 3G-SDI x 3 + HDMI x 1, NDI sources x 8) ・ 2 Internal (CLIP x 1, STILL x 1) |