High grade of automation
New ways to shoot
Reliability and safety
Reproducibility
VR and AR ready
Designed to automate, optimise and enhance your production workflow.
KST-CamBot.system is the central base for high-level automation of TV productions
The CamBot.system forms the backbone of a modular system to which a variety of functional modules can be docked.
The CamBot.robot, CamBot.control and CamBot.remote modules, which are already available, are responsible in the main for the robotic camera workflow.
CamBot.robot  is the robotic camera system itself, comprising the system robots in the KST-UR series (KST-UR3, KST-UR5 or KST-UR10) and a camera unit tailored to the application (AK-UB300, VariCamLT/35, AU-EVA1). Equipped with a host of safety features, the KST-UR series is a robotic camera system, which can be used without safety zones or similar restrictions.
CamBot.control is the central backbone technology, which is responsible for communication with the peripheral systems (e.g. CamBot.robot, but also PTZs and PanTilt systems). In addition, CamBot.control supports various systems from other manufacturers such as Stäubli, Mitsubishi and Electric Friends.
CamBot.remote acts as a hardware and software-based control level for operators, enabling live control of the system and definition of complex automations. The highly developed and intuitive KST-CBR-PRO software (GUI) allows safe and convenient handling of all relevant function sequences in combination with the KST-CBR-RP-1 hardware remote panel.
Meanwhile, combination with a AK-UB300 or VariCamLT 4K camera system gives rise to a 4K-ready bundle, which enables a broad range of high-quality and dynamic camera movement sequences of any complexity. Combine in-depth automation with new and creative options in 4K.
CamBot.robot offers comprehensive system options for expanding the field of action, such as KST-UR10-HMS and KST-UR10VMS horizontal or vertical rail systems, which extend the 6-axis UR robot by a travel axis of up to 5m in length.
Use the precision of the CamBot.system to optimise your camera workflow.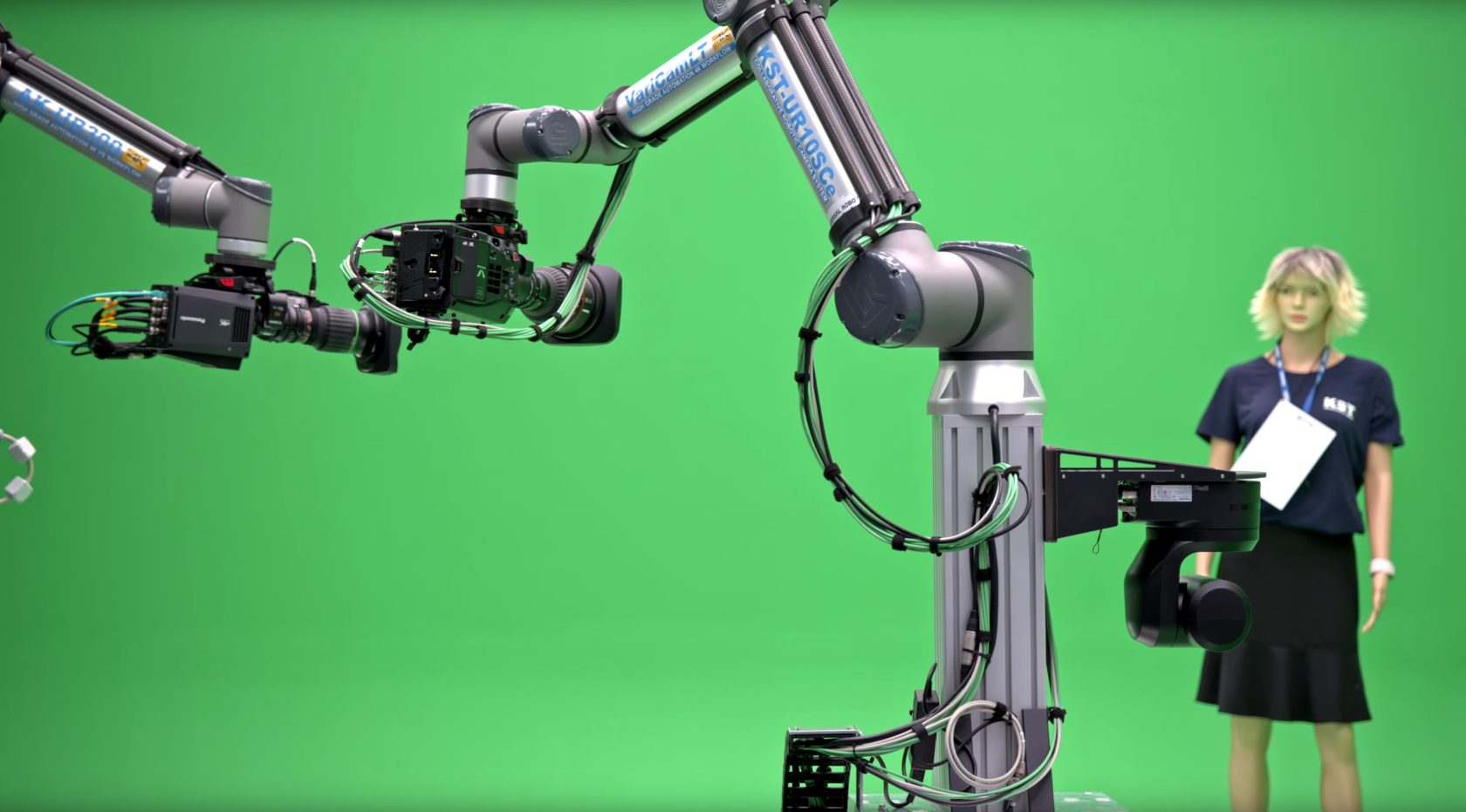 Advantages of the robotic camera system:
Dynamic, clean tracking shots of any complexity
High repeat accuracy and precise planning
Static or dynamic tracking of the moderator
Central control of robotic camera systems, PTZs and PanTilt cameras
Safe operation of several camera systems at the same time
High safety standards thanks to the collaborative working principle
Extensive range of interfaces to external systems (automation, tracking, VR/AR systems)
The CamBot.system is the perfect basis for integrating additional systems into your workflow. Whether in terms of using talent tracking, integrating virtual technology, controlling studio lights, combining with studio automation or newsroom systems, the CamBot.system already offers a wide array of interfaces to the most popular formats.