Mounting
NPM-DX
High placement quality and high throughput are the characteristics of Panasonic's NPM-DX, the next generation of smart pick and place equipment.
Scroll down
The NPM-DX provides a greater line throughput, better quality and lower production cost featuring an autonomous line control, which guaranties a stable operation based on automatic functionality. This functionality in combination with the machine set up offers a labor-saving production with improved utilization.
In combination with the Panasonic software environment and embedded into an Industry 4.0 philosophy, the user can expect a modern shop floor management system including various remote operation options, feeder setup navigation, component supply navigation etc.
In total, the NPM-DX reduces downtimes and increase the line throughput.
With 92 400 cph and a feeder capacity for up to 136 reels, the NPM-DX is the ideal solution to meet the expectation of an evolving electronics assembly industry.
The NPM-DX can process PCB sizes of up to 510 x 590 mm and place large connectors (up to 150 x 25mm) and other components (up to 120 x 90mm).
This and other features make the NPM-DX the best solution for high volume-mix manufacturing.
92 400 cph and feeding with up to 136 reels
Ready for line automatization
Available APC system
Integrated floor management
Lowest total cost of ownership (TCO) with maintenance services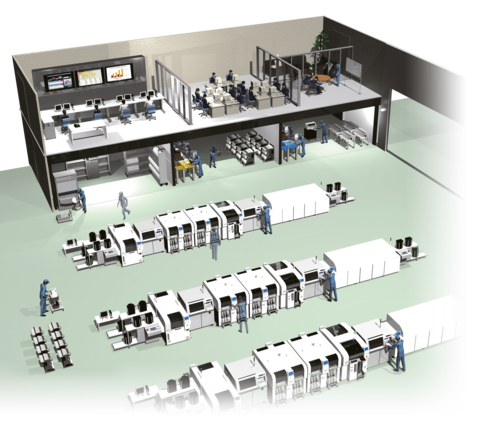 | | |
| --- | --- |
| Model Number | NPM-DX |
| PCB dimensions (mm) | Single-lane mode: L 50 × W 50 ~ L 510 × W 590 Dual-lane mode: L 50 × W 50 ~ L 510 × W 300 *When the long spec. conveyor is selected |
| PCB exchange | 2.1 s ( L 275 mm or less); 4.8 s ( L 275 mm or over to L 460 mm or less) *May differ depending on PCB specifications. *When the short spec. conveyor is selected |
| Electric Source | 3-phase AC 200, 220, 380, 400, 420, 480 V 5.0 kVA |
| Pneumatic Source | Min.0.5 MPa、200 L /min (A.N.R.) |
| Placement Head max Speed | Lightweight 16-nozzle head V2 (Per head): 46 200 cph (0.078 s/ chip) Lightweight 8-nozzle head (Per head): 24 000 cph (0.150 s/ chip) 4-nozzle head (Per head): 8 500 cph (0.424 s/ chip) 8 000 cph (0.450 s/ QFP) |
| Placement Head Placement Accuracy (Cpk≧1) | Lightweight 16-nozzle head V2 (Per head): ±25 μm/Square chip Lightweight 8-nozzle head (Per head): ±25 μm/ Square chip; ±40 μm/QFP □12 mm Under; ±25 μm/QFP □12 mm to □32 mm 4-nozzle head (Per head): ±20 μm/ QFP |
| Placement Head Component Dimensions (mm) | Lightweight 16-nozzle head V2 (Per head): 0201 component  / 03015 component; 0402 component to L 6 x W 6 x T 3 Lightweight 8-nozzle head (Per head): 0402 component ~L 45 x W 45 or L 100 x W 40 x T 12 4-nozzle head (Per head): 0603 chip ~ L 120 x W 90 or L 150 x W 25 x T 30 |